Until recently, Lagos solved the problem with waste disposal by its' relocation to the suburbs. As the city grew, the Olasosun landfill was quickly surrounded by all kinds of urban activity. Therefore, the local government decided to shut down the landfill to design a park and stadium.
I titled this project "Gone with the Wave", referring to a novel by M. Mitchell "Gone with the Wind". One of the main themes there was the civilization shift, where people had to adapt to new ways of life, traditions, and thinking. A vision for a new complex includes an anchor program that incorporates attitudes relating to rehabilitation of damaged land, building a sports complex, educational facility, and provision of working places.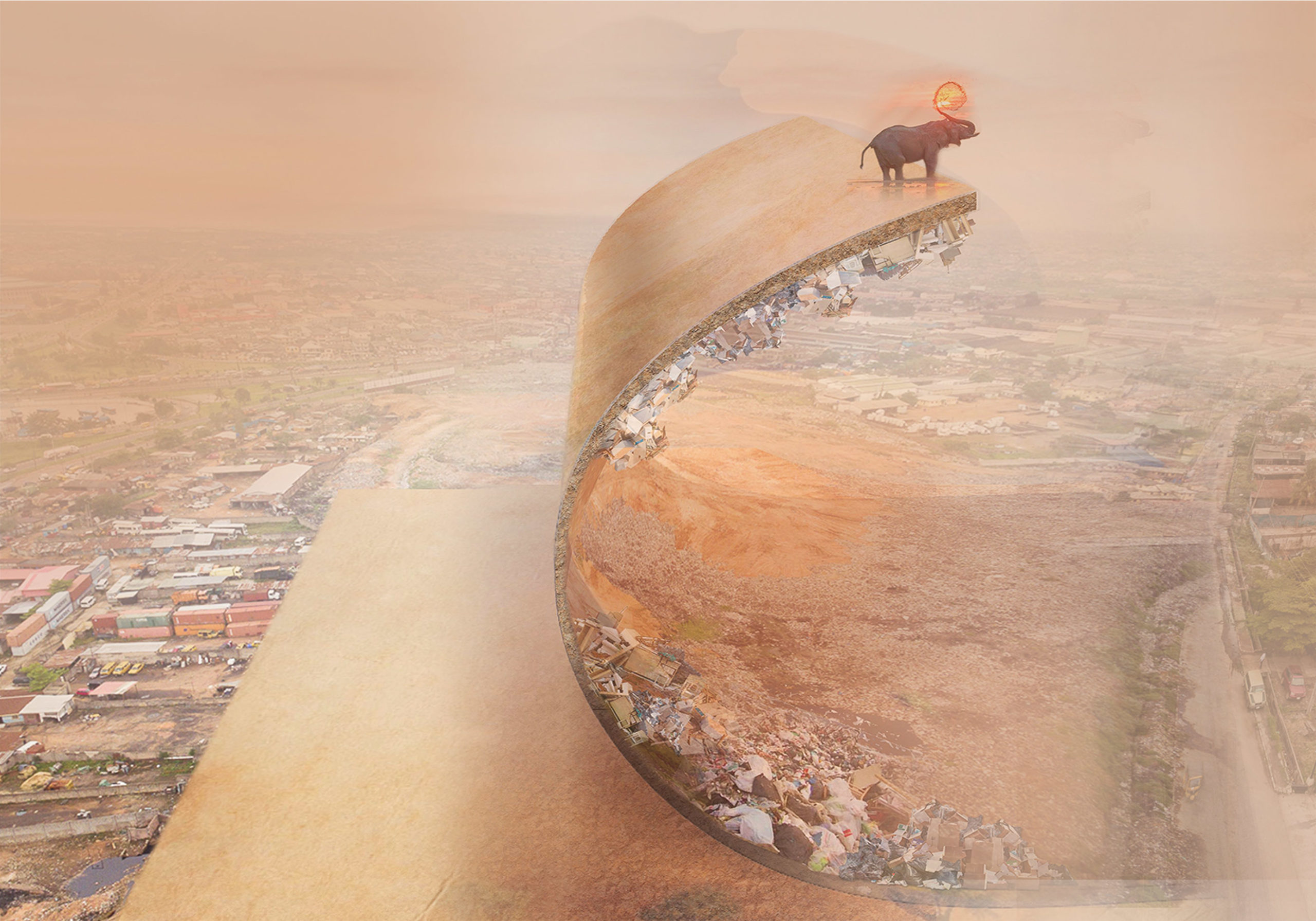 The first stage (2019-2022 years) of a long-term design is based on the reincarnation of the waste polluted area. We install drainage to collect and clean leachate, cover the waste with the protecting screen, mount pipes to collect and burn methane to generate electricity. We seed bamboo to promote soil remediation and use it afterward as a building material. We erect a flexible and transformable bamboo unit-based structure, which accommodates sheds for waste sorting and recycling lines, modules for manual work with recycled waste. The dominant structure is a community center, which serves as a place for lectures, advertisements, and community meetings. Kindergarten and elementary school are provided for reincarnation complex's workers. Thus, during the first stage, we use garbage as a resource. It works as a hub for the production of items made of recycled waste, we provide local people with new jobs and stable income, and have partially revitalized land.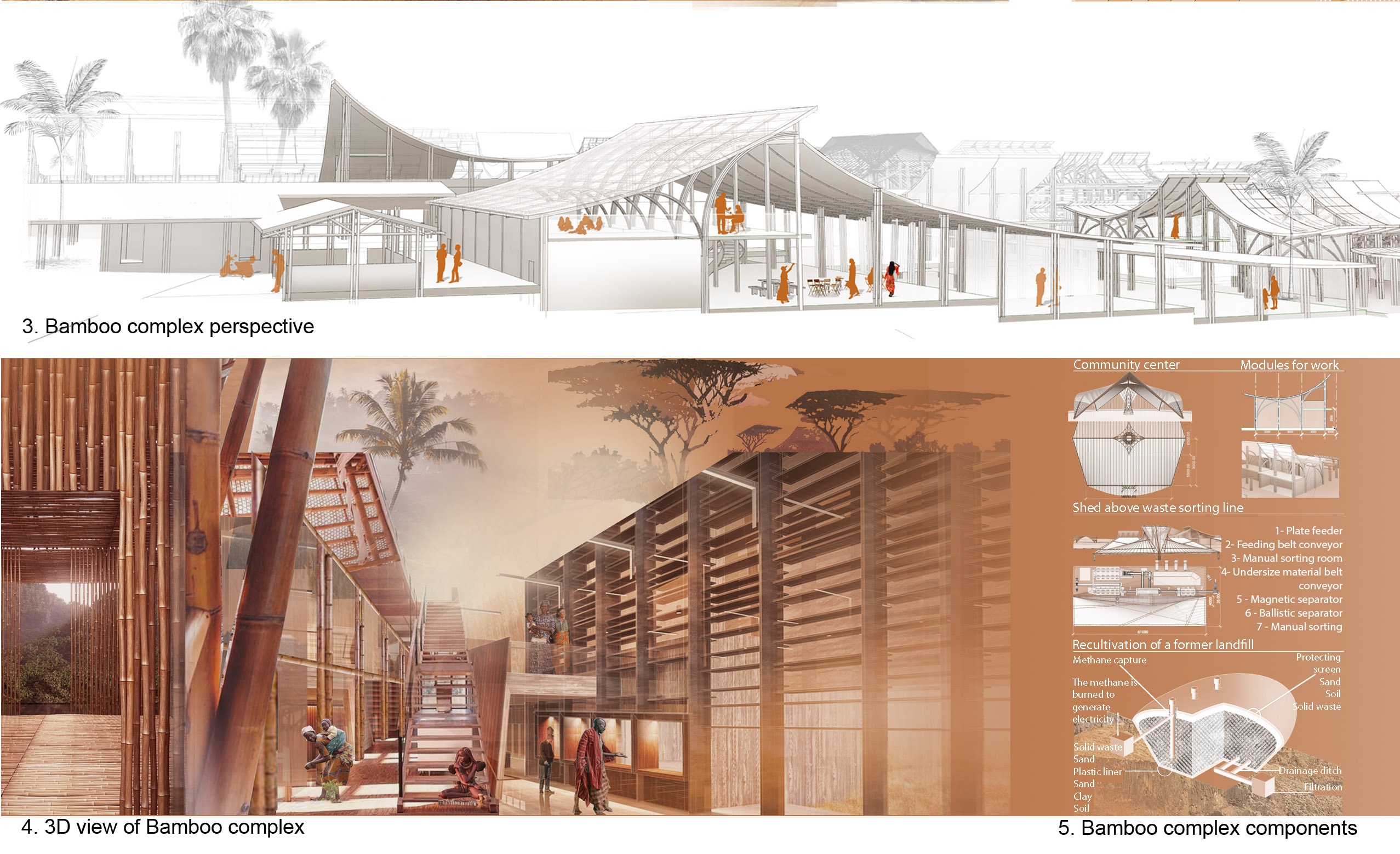 Stage 2 (2022-2025 years). Designing a stadium would be the next step. This multi-purpose structure will hold events around a year by combining both the traditional stadium program and another supplementary activity. We propose to build East tribunes, which include a WtE plant to increase the speed of landfill revitalization. Moreover, we build North and South tribunes to accommodate sports school, including administrative offices and first aid office. Stage 3 (2025-2028 years). We design transformative West tribunes, underneath which we accommodate college and campus. Our project creates a symbiosis of architecture and environment by using bricks made with local clay, we also use distinctive features of Ibo, Yoruba, Hausa, and Fulani traditional architecture to make all visitors feel connected to the site. Students who've graduated from college can be employed in our complex. Stage 4 (2028-2035 years). The site will continue to develop, according to urban network needs. A mix of educational, sportive, working and residential facilities, as well as social spaces for permanent football events, will be occupied by the neighborhood all year round. Local flora will perfectly blend with stylized architecture and refill this district with greens.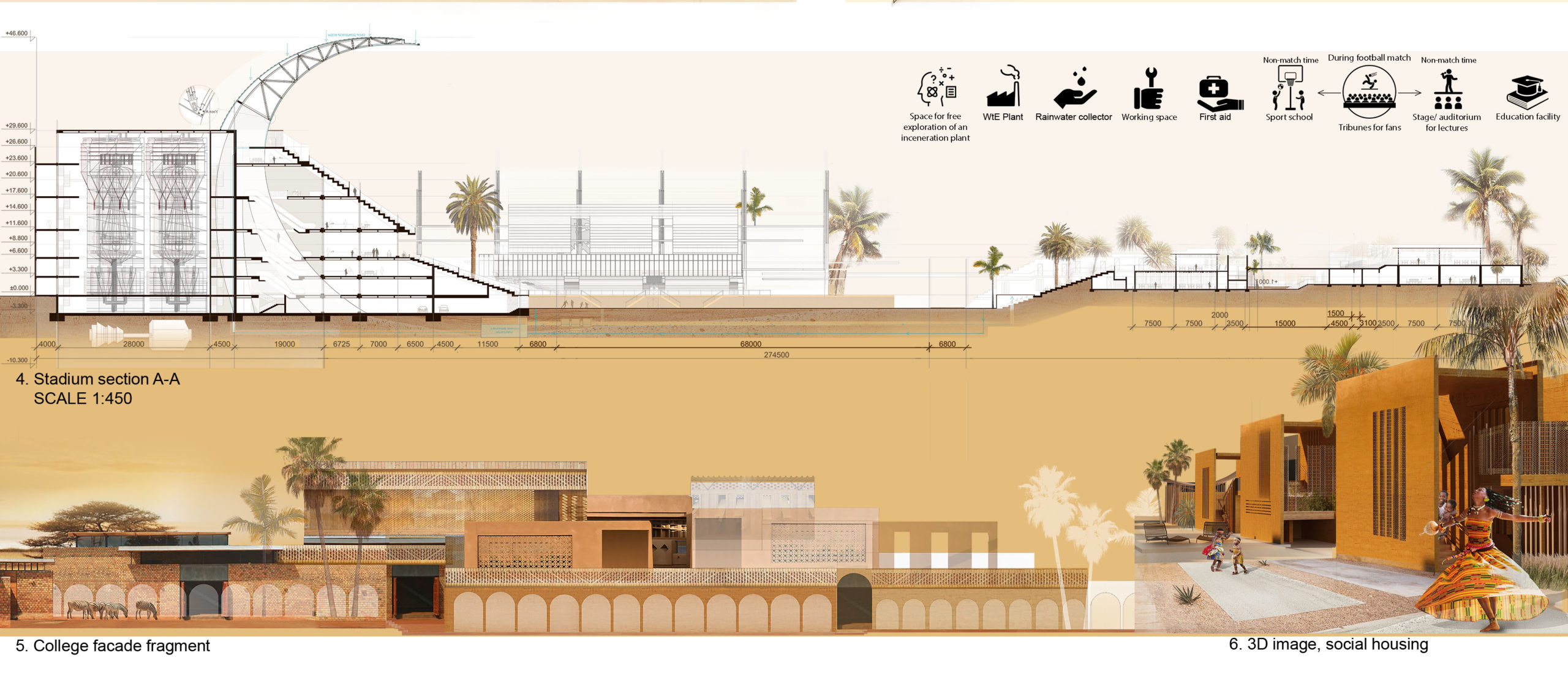 The Board: