GROWING HINGE
Major cities nowadays have a well-organized and stabled infrastructure surrounded by various communities. Yet, there are still ongoing issues that don't adequately reflect the communities anymore. It is important to consolidate people's interest and construct a strong infrastructure on top of a built environment. This thesis project explores 'Growing Hinge' as a way of rethinking city that collects common interest from the communities and solves problems for the city to grow as a continuous development.

The project, Growing Hinge, attempts to examine the growth of metropolitan cities by rethinking a way of collecting citizens' common interests and enhancing linkage within the communities. Though rapid urbanization, infinite pavement, and gentrification have become one of the municipality's controversies, and these have led people to withhold communication among themselves and amalgamate isolation. Megacities such as Manhattan has become one of the most advanced municipalities after centuries of urbanization, but rapid development also occurred lack of green space, segregation within communities, and augmented vulnerability to climate change. Starting from an artificial grid design on top of a Manhattan island, NYC government provided regulated guidelines to citizens to oversee the whole system as one gigantic infrastructure. Yet, the city's administration remains uncountable growing issues and one of the approaches that community and individuals can involve is Community Boards. Citizens' activities and interests recorded on weekly minutes become a framework of this project and juxtapose current urban fabric and community interests. Finding a potential location after investigating on surrounding environment and introducing new spatial/program intervention implies a better way of understanding the city and community simultaneously.

Rather than limiting the scope of investigation on architecture exclusively, understanding community involved elements that are related to urban cities such as public programs, public schools, parks, commerce, and private residences become an anchor that truly integrate citizens' interest and reform architecture and communal realm. This will not only enhance human-human relationship but also acknowledge the community as a whole and raise up the voice encountering larger scale issues. Selected moments that are introduced shows an example of providing people new perspectives on their environment they live, work, and feel part of the city. This project proposes essential guidelines that retrofit an existing zoning regulation and attempts to design spatial intervention and propose hybrid programs within a test block located in Upper East Side.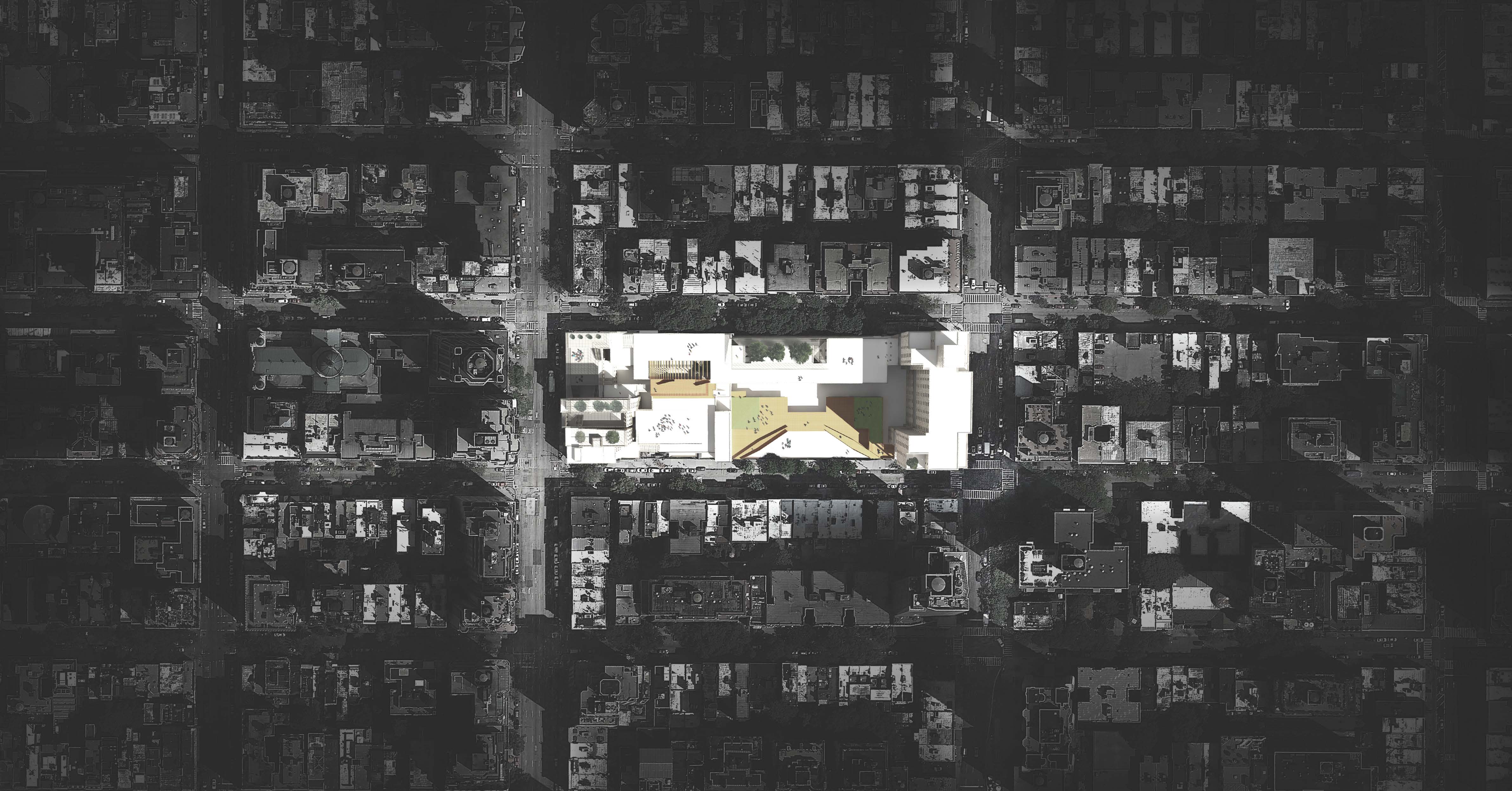 The Board: