Nowadays society is pushed under pressure by chaotic life rhythm that needs to reach a new balance. The project intends to complete university facilities located in the Olympic Park in Munich through new research laboratories. In this environment students, researchers and outsiders can approach the concept of well-being, developed in contemporary meaning only in 80's, in theory and practice according to three complementary approaches: mental, physical and alimentary. The project goal is to meet people's health needs. The other main topic is its physical construction. Currently one of the central issues about environment is its pollution by plastics: the project aim to recycled this material by the design of new prototypes.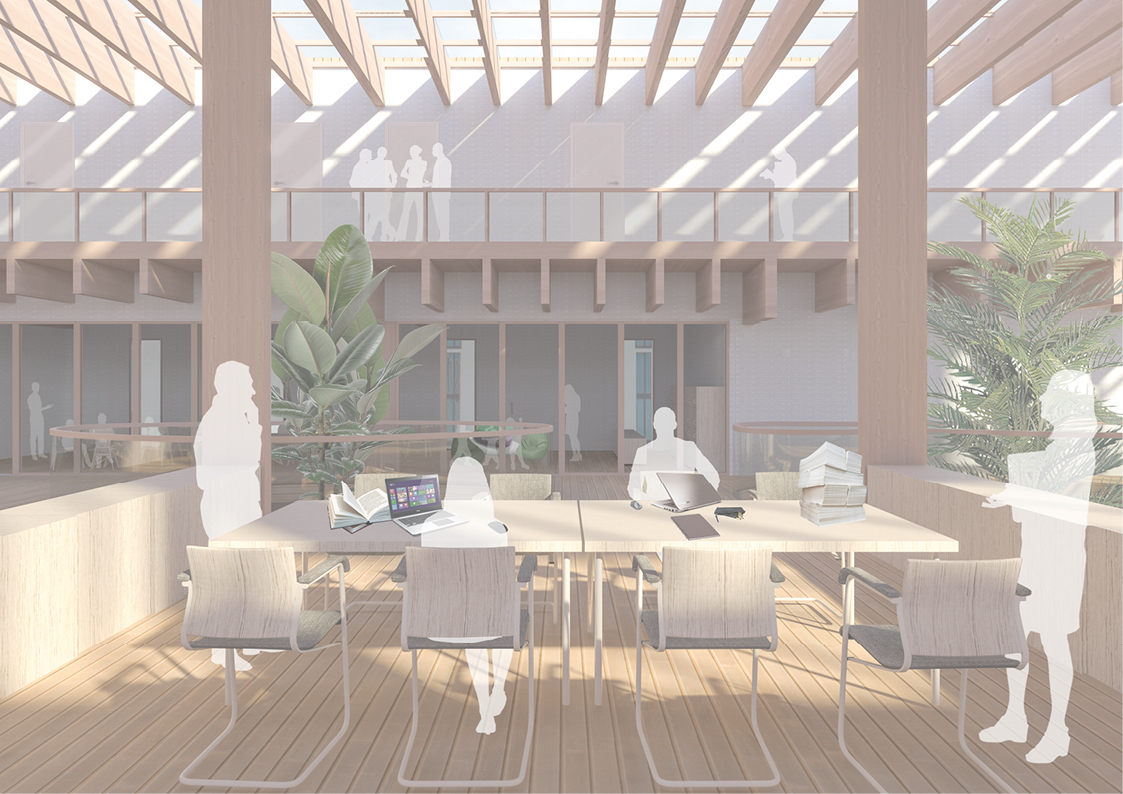 The city of Munich shows itself on the European scene as a symbol of a well-being city due to green open spaces and sports areas. It's also known as a cultural centre with a world-renowned university. The project is set up as a research centre to complete the city through new research laboratories related to wellness. Its final purpose is to follow the users by physical, mental and alimentary point of view to reach a state of well-being. Currently, there are no case studies of projects that include all these different disciplines inside one structure. Therefore, for its peculiarity, the building required many functional and compositional analyzes.The result is the design of an articulated plan extended over 11.000 m2 of building and 30.000 m2 of outdoor space. The activities are placed into blocks, according to approaches, but in relation to the lot and within it. Accessibility and physical connection to all the areas are ensured by a distribution space placed at the centre developed as a gallery that becomes commercial space. It leads to activities, which branch out like a comb towards the green outer space, which becomes an extension of the interior. A laminated wood structure outlines the area defined geometrical spaces. Thanks to this regular configuration, the project succeeds in obtaining relations between different functional environments. Instead greenery is natural arbitrary, thus highlighting its contrast with anthropic action.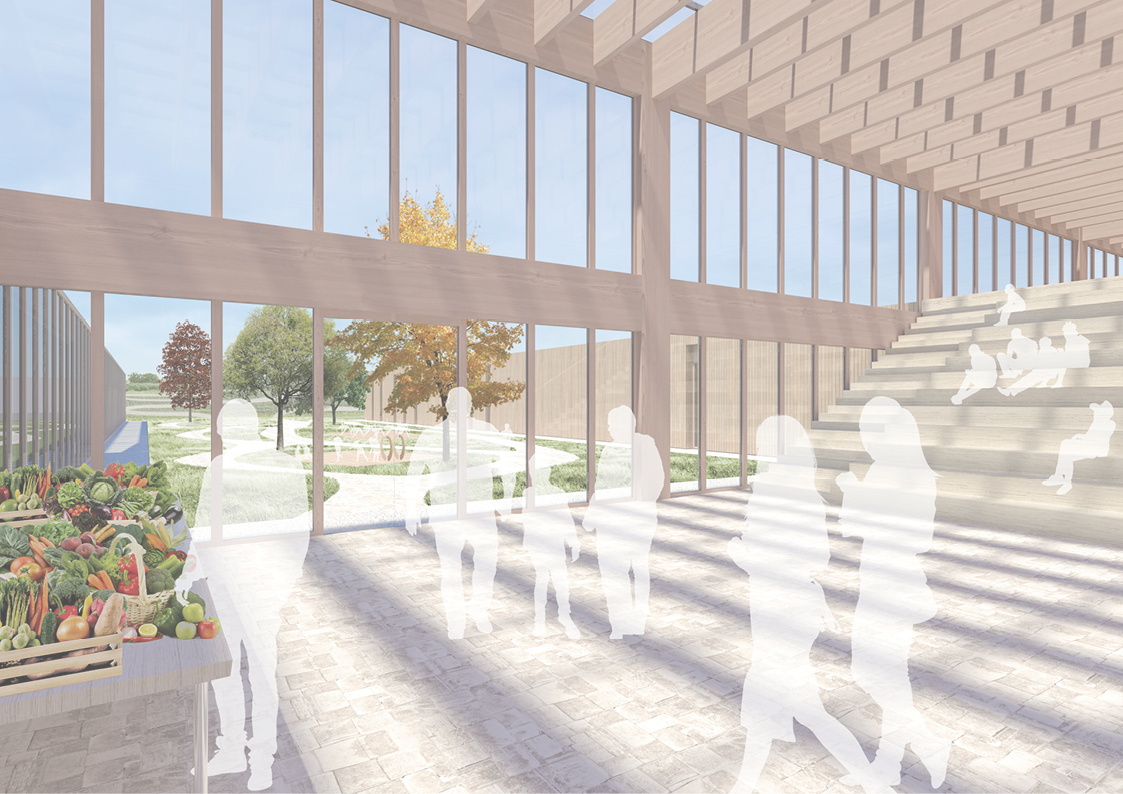 Currently historical time is subsequent to periods of consumerism and production. Today our planet is overwhelmed by new materials and their recycling has become a duty. One of these materials is plastic which is at the centre of the international debate regarding waste and pollution with respect to environmental protection. The project is designed as a new functional space and its innovation principles are been chosen to be apply also from the constructive point of view.The intervention aims therefore at the use of recycled plastics for constructive purposes, as a contemporary re-use policy. After careful analysis about types of plastic and their properties, two prototypes have been defined: a modular element made of PVC as cladding; a recycled translucent filling for wall. Besides climate changes issues is considered, in particular due to human action and uncontrolled land use linked by population growth. The project aim to invest in renewable energy and in the research for the optimization of agricultural production. In this scenario, is planned a photovoltaic system to cover the energy demand and a greenhouse. The crops have been selected in relation to the local needs consumption, taken into account the most popular and, at the same time, cultivable vegetables in greenhouse. A goal was to study how the country could reach the auto-consumption of these Km0 products. To summarize, Wellab is designed as a place to achieve health from every perspective.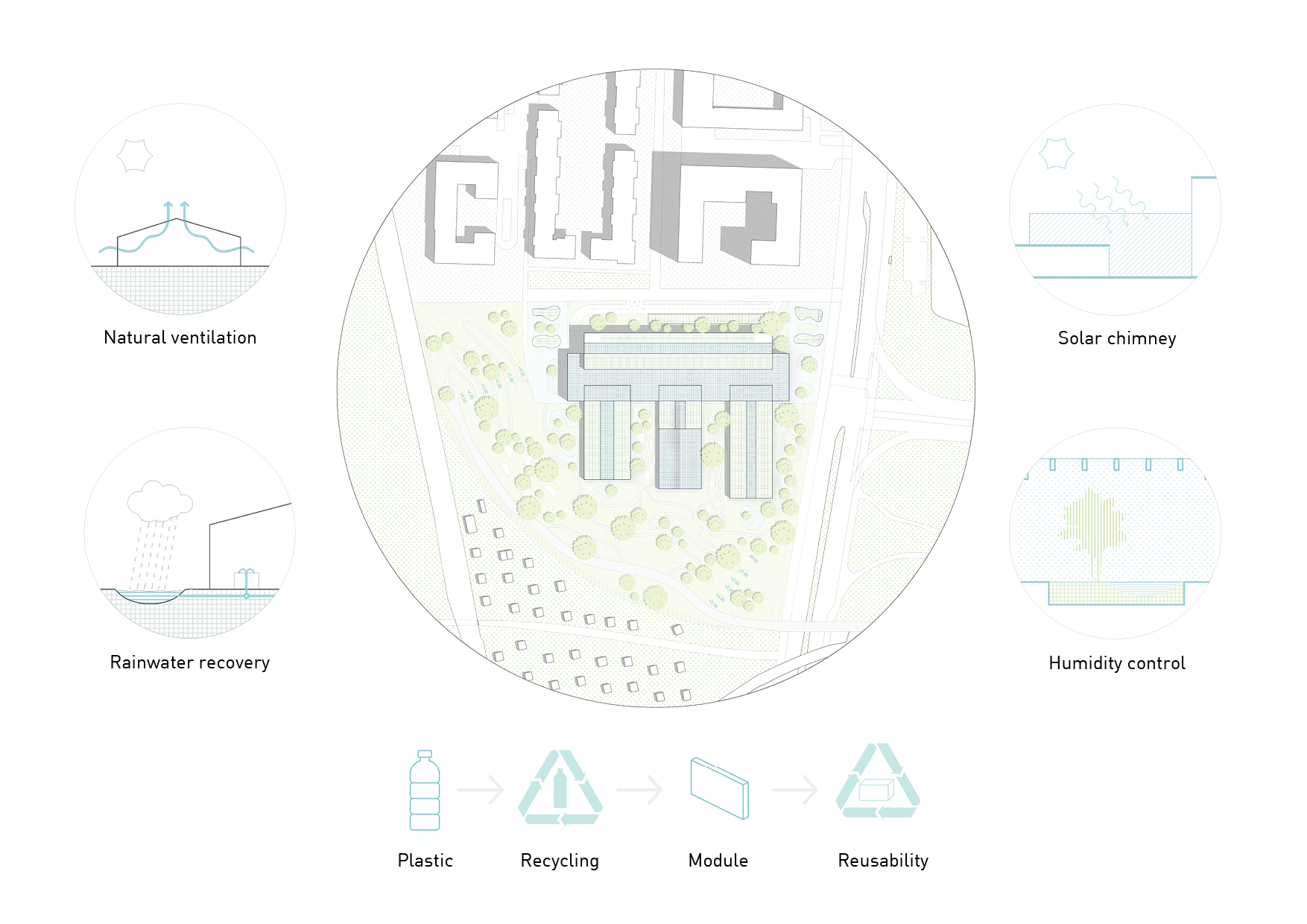 The Board: