As a team, we understood that Giulia and Roberto can be like any of us. They lived trough the pandemic and now they're out in the "new-normality", adapting themselves to a new way of life were contact is restricted and many social activities are limited. In this future, their house is their refuge from harm, their safe place where they can be themselves and fulfill their needs and obligations like working and share as a couple. But also, a place were they feel better everyday. The Healing Home is that place, a project that presents the adaptability of the living environment as a Healing therapy, that allows our users to live in a home that suits their personalities, allows the creation their own program and takes care of themselves.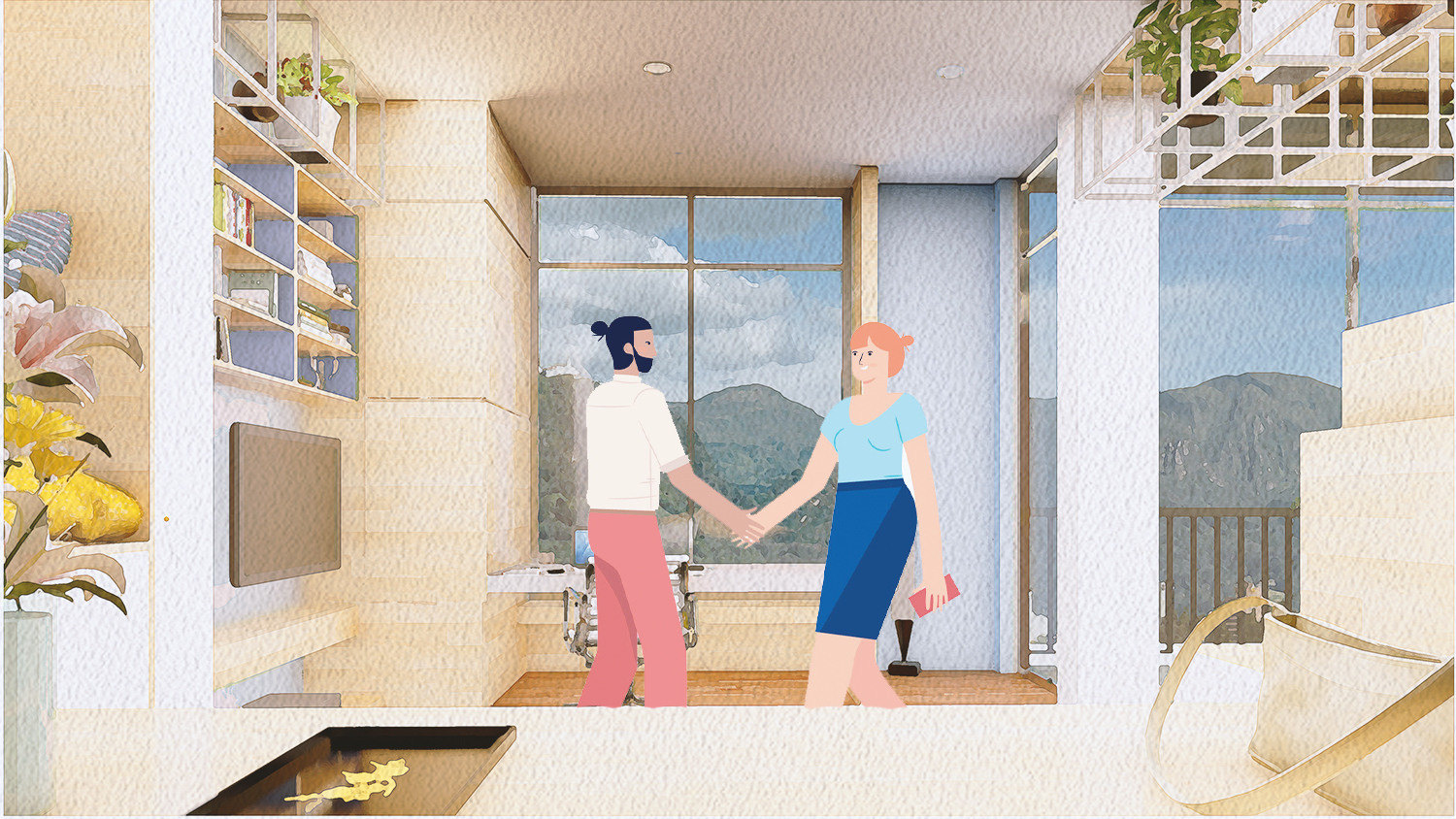 We asked ourselves ¿Can we dream of a house that serves not only for living and working but also for improving our wellbeing? We believe that the covid-19 isolation periods affected very deeply the wellbeing of the home users around the globe. Particularly in our home city Bogotá in Colombia, prolonged periods of time doing home-office and actually "living" in our houses revealed three mayor problems in our housing system: 1. Our houses are a result of massive industrial developments that lost their identity in the way. Today every unit is the same, but not all the users are equal, everyone lives differently. 2. They serve for its basic purpose but the restriction of movement around the city from the isolation demands more activities inside the house, our houses doesn´t supply that. 3. The isolation periods in our houses proved that they are not equiped for hosting people over prolonged periods of time. Eventually the lack of change in our enviroment ended up affecting our overall health. To understand Giulia and Robert we follow a design thinking methodology interviewing our close ones, understanding their behaviour in their daily life, but also in their free time. We recreated their histories and that personalities embodied by Giulia and Roberto. We found their spatial needs but a bigger problem behind that: their wellbeing was becoming their main concern, because it was being affected alongside their daily life and by consequence their productivity.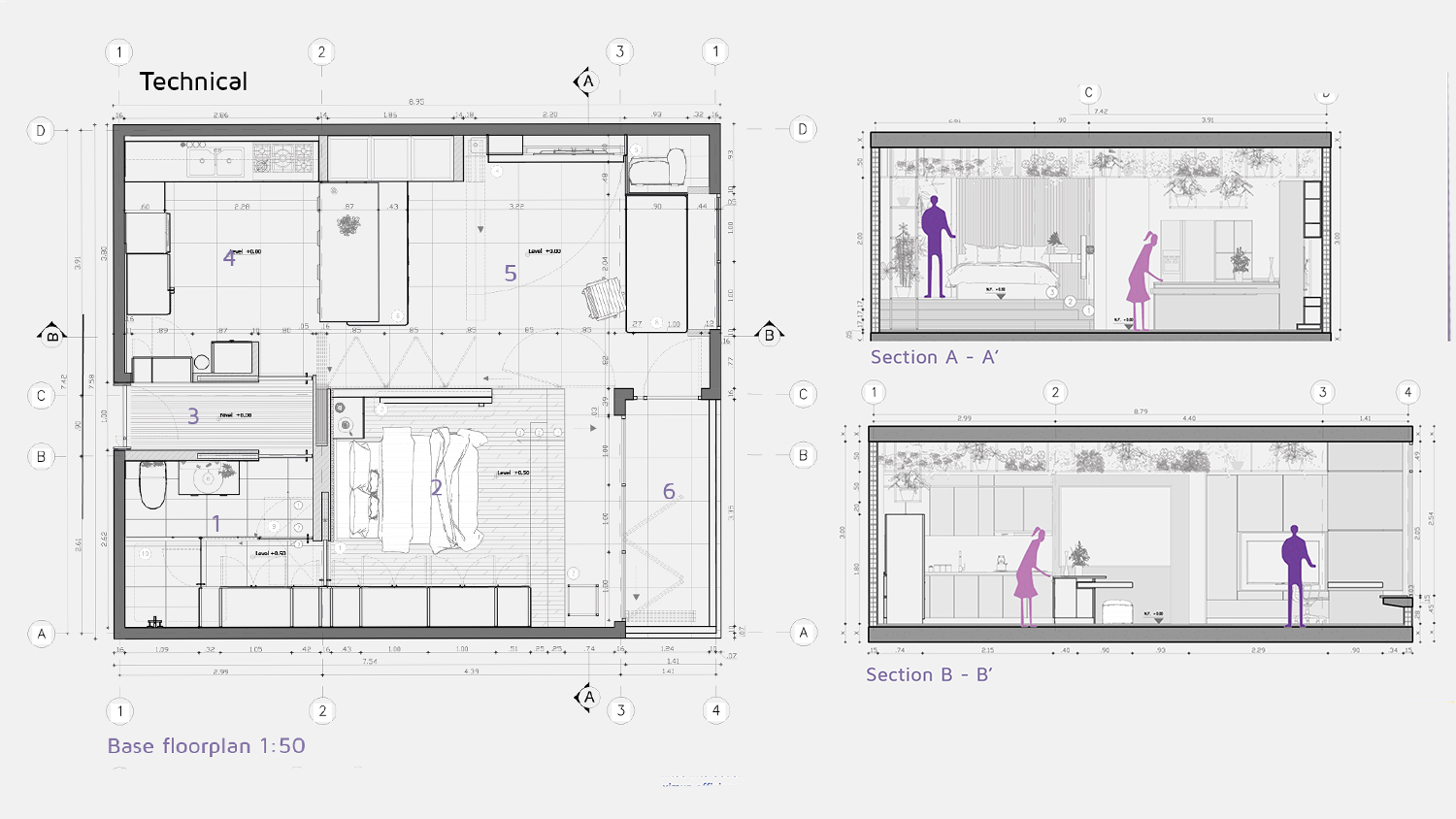 The Healing Home borns from this problema as a project that presents the ADAPTABILITY of the living environment as a HEALING therapy, that allows our users to create their own BALANCE in the program they need in their house. This solution will give the users a way to shape their home with it's own identity, supply their needs for others types of activities and eventually improve their wellbeing by living in a healing space. Living, working and healing. 1. Adaptability: By understanding each of our users we created a "tailored" home that they can adapt to their daily routines liketo how they live, how they work and interact according to their personalities. 2.Balance: We increased the program of a regular house to supply the need for new activities in-house. The furniture changes as the user needs to complement their activities and mantain that balance. Ex: Work - Inspire. 3. Wellbeing: Understanding three principles of therapeutic design we transformed the living environment into a healing one, 1 - mantaining harmony between the social and private places, 2 - comforting the five senses in every space and 3 - appealing to color as a permanent therapy. We created a house that can adapt to changes and necessities like the pandemic we are facing, host Giulia and Roberto for as long as they need and heal them in the process while boosting their productivity and facilitating their lives. We designed for Giulia and Roberto as it was for ourselves.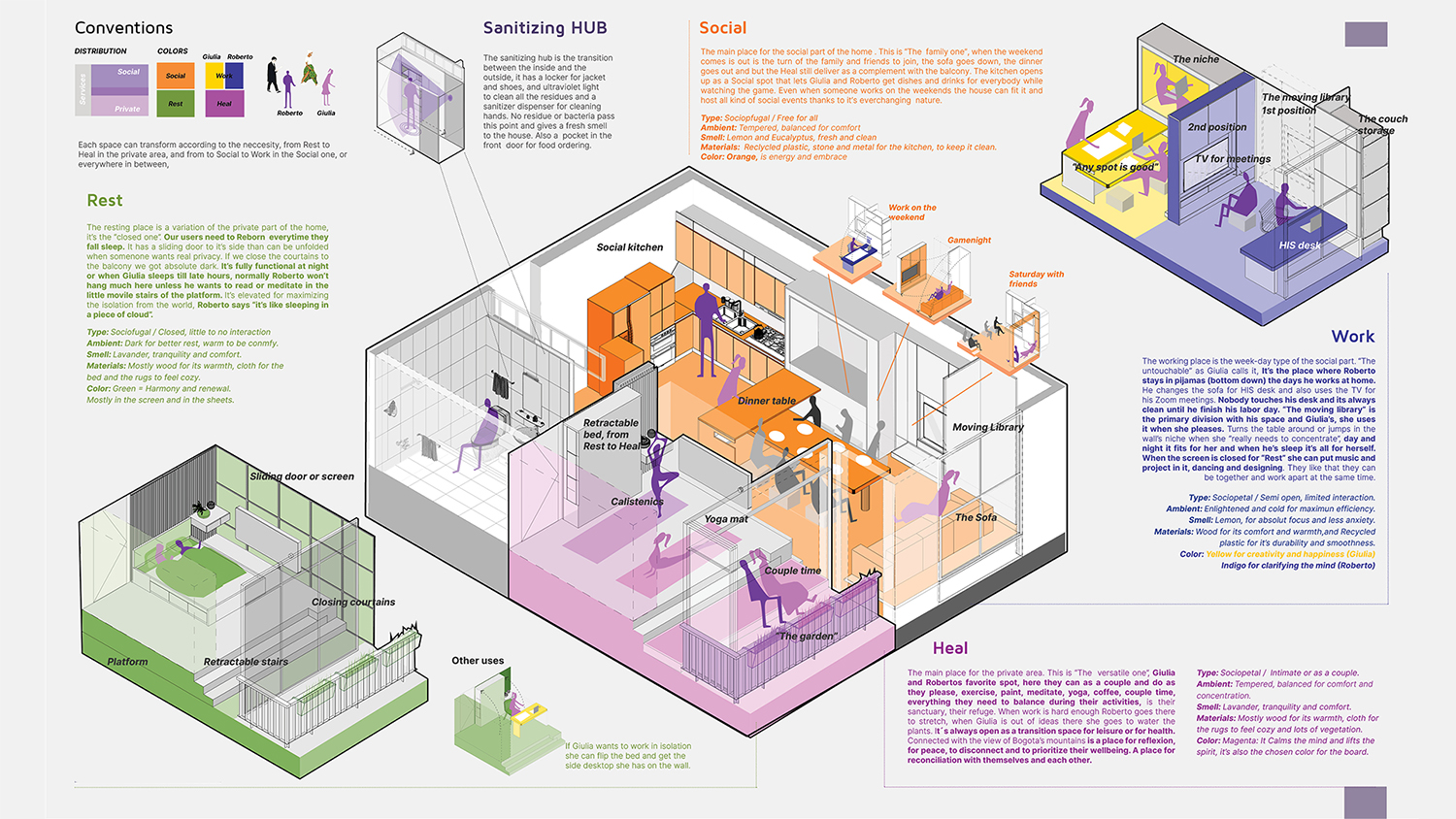 The Board: