Blue sky, blue water … and "the Blue Room"
The place to forget about outside world and problems and to relax among the natural beauties.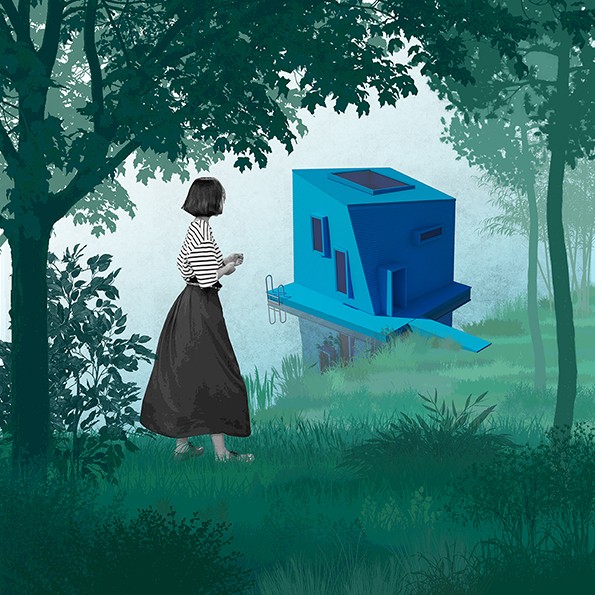 The form of the room was created from a simple volume of a cube twisted around its core. The core iitself is the heart of "the Blue Room", that is why the room space spins around it. The core is an independent unit that includes what is need: leeping place, small build-in kitchenette, restroom and build-in table that can be used as dining or working table.
Moreover, deep window frames supposed to be used as seating places where enyone can relax enjoying the picturesque view.
.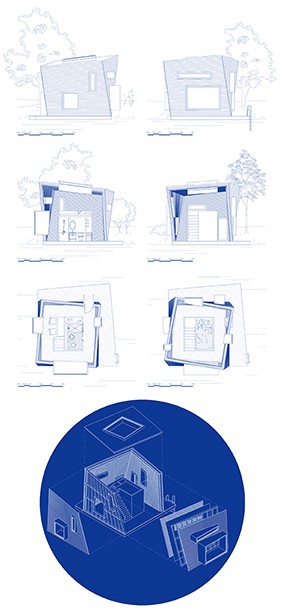 The constructive system is relatively simple – wooden frame with insulation. The facade is planked and the interior walls are wrapped verticaly by strips of lamber. Planed larch planks are spaced at even intervals and aligned from surface to surface. Everything is painted in blue.
The main idea was to create an unusual, unique and in some way meditative kind of space. That is why the exterior and the interior of this house is blue, because blue is a calming and relaxing color. This color is also similar to the color of sky and water and is combined with the color of surrounding green plants.
The room is desined to be part of the environment and stand out of it at the same time.

The Board: