Taiwan is an important center for the performing arts industry in East Asia. It is internationally known for its Cloud Gate Dance Theater. At the same time, A large number of music festivals and various performing arts activities are gathered in the greater Taipei. However, Taiwan doesn't have a home that belongs to the performing arts industry. The executive director of Cloud Gate Dance Theater once said, "We never have a home." Therefore, we hope to find a base that can complete the performing arts industry chain. A home will not only give artists better space to create and maintain the cultural energy brought by the music festivals, but also transforming local industry, creating opportunities of generation apart from relying on tourism.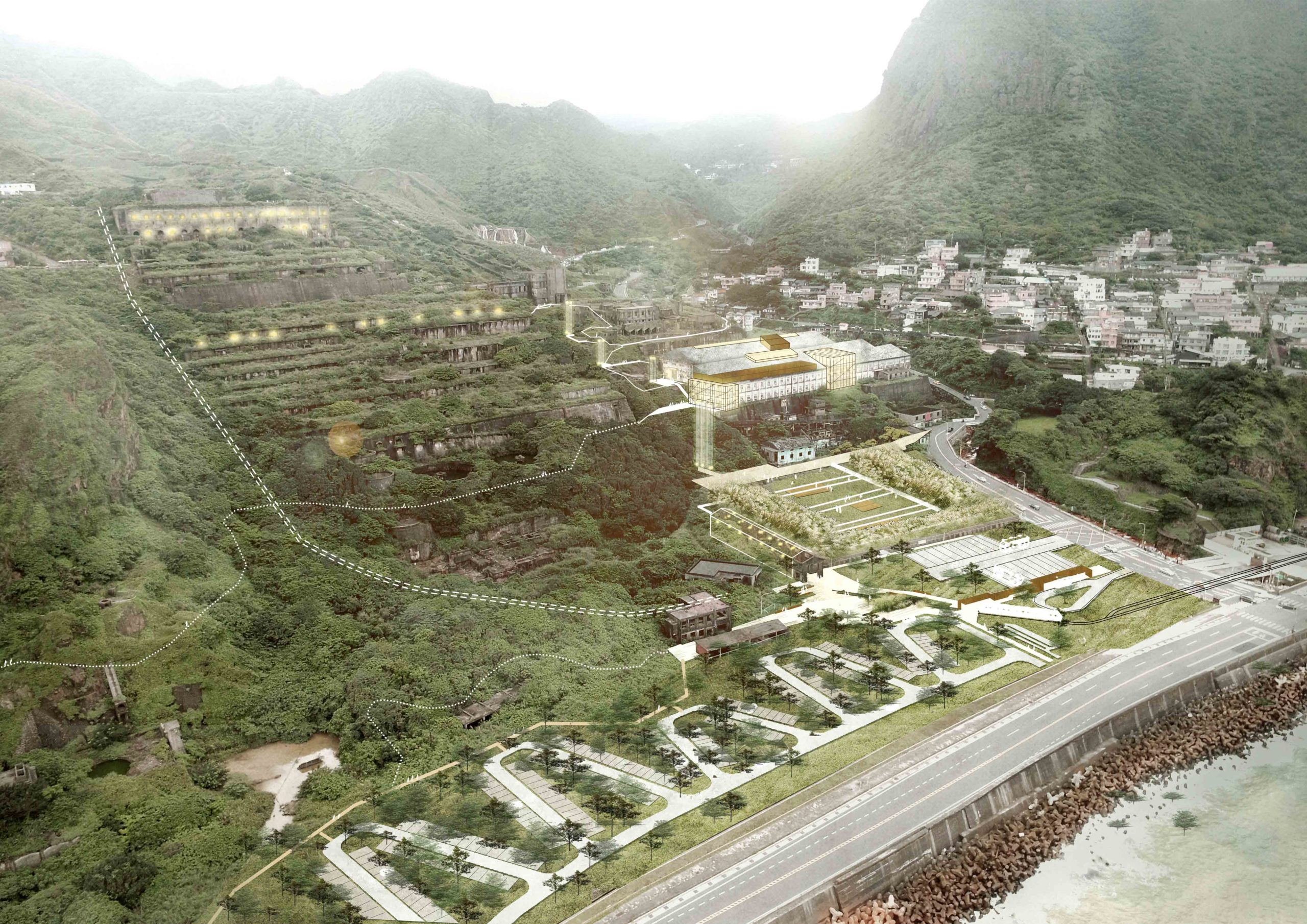 A home for performing arts requires large practice space, indoor and outside performance place and so as the living space for workers. Thus, Shueinandong becomes the best choice with numerous redundant and neglected space and buildings and two decline and ageing villages on the both sides, which used to be the largest gold mining industry in Taiwan. Introducing a new industry reuse the abandoned space and improve the development of surrounding villages, achieving a win-win situation. Besides, countless of pioneer plants have taken over most of the sandy land and buildings inner space in Shueinandong which is now the most authentic embodiment of The third landscape in Taiwan. We hope to conserve the special landscape and ecology. Therefore, facing the brownfield with stable natural ecology and the development of surrounding villages, a minimal and gentle design was used and at the same time decline the degree of disturbance to the site by the developments. We hope that performing arts industry base provides its workers with a complete work space and living space and is not disturbed by sightseeing and recreational activities. Therefore, the site will be zoned for different users, performing workers, residents, and tourists. Making good use of the large elevation range and numerous retaining walls that make vertical communicate difficult, successfully separate different groups, meanwhile, by retaining most area of the third landscape, forming a natural buffer zone.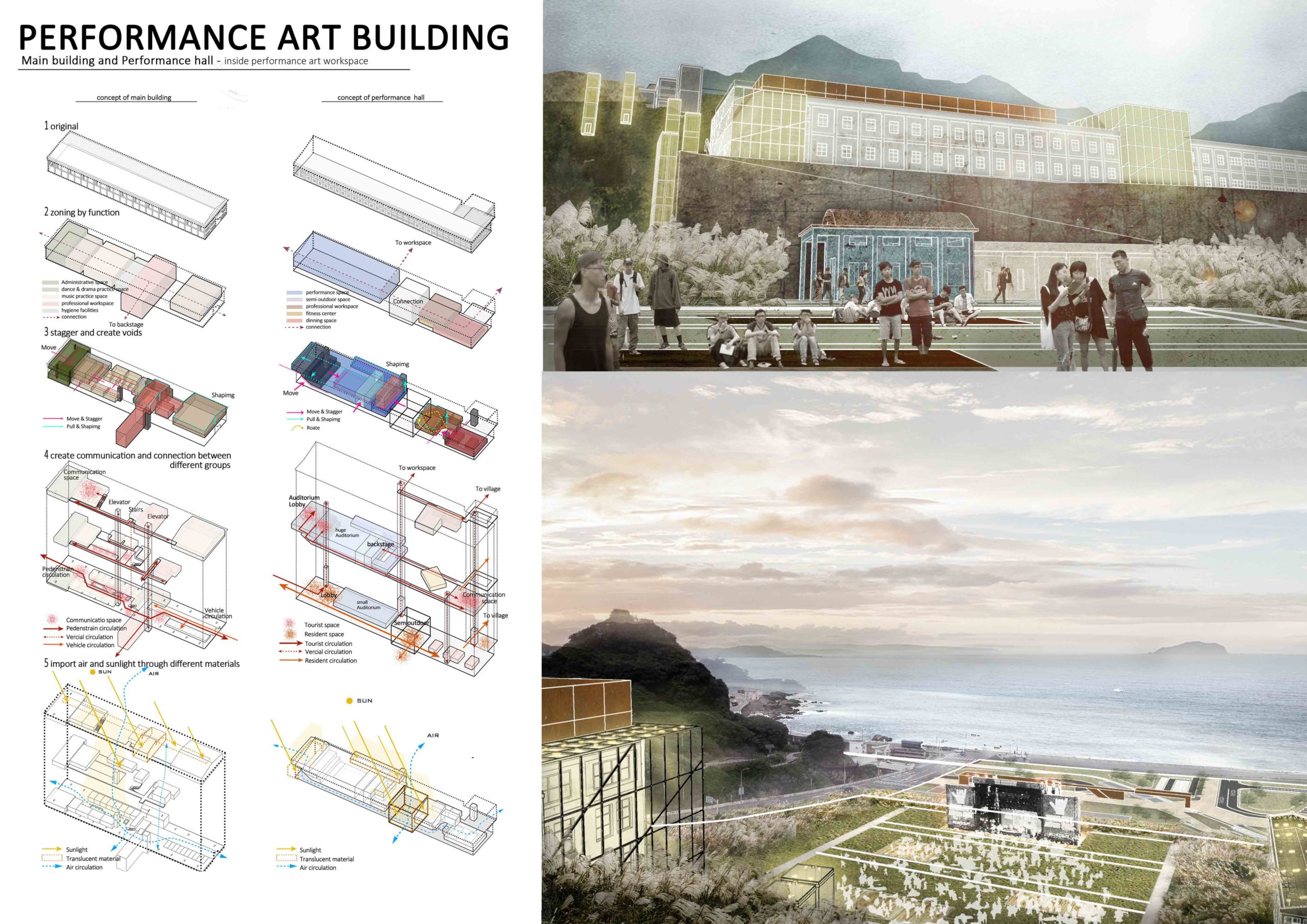 Two biggest remain buildings are reused for the performing inner work space. Transform the original interior space without partitions into a working space suitable for drama, dance and music groups. First, zoning space by functions and then staggering space cubes to create voids which sunlight and fresh air can get in. Finally, create communication space and circulations between different groups. Use outside elevators to connect whole area for the base. As for the appearance renovation, retain the wall structure and the pitched roof structure. The entrance has a double porch designed to withstand strong northeast monsoon. A large number of glass materials are used, it will have spectacular appearances due to the indoor lights, which looks like several light boxes embedded in the building. Moreover, an outdoor concert terrace is renovated from a previous sedimentation which has been sealed by concrete for years. Through designs, we retrieve the texture and use natural miscanthus to create the past spatial perception. Besides, the transportation system is another important issue since Shueinandong is a part of Shueijinju recreation system. Firstly,fragment the original large concrete parking lot and turns it into ecological rain garden parking lot, water from mountain nourished the plants and repaired the landscape that damaged by artificial concrete. Second, it function us transfer station, including private cars, motorcycles, tour buses, light rail, and cable way systems.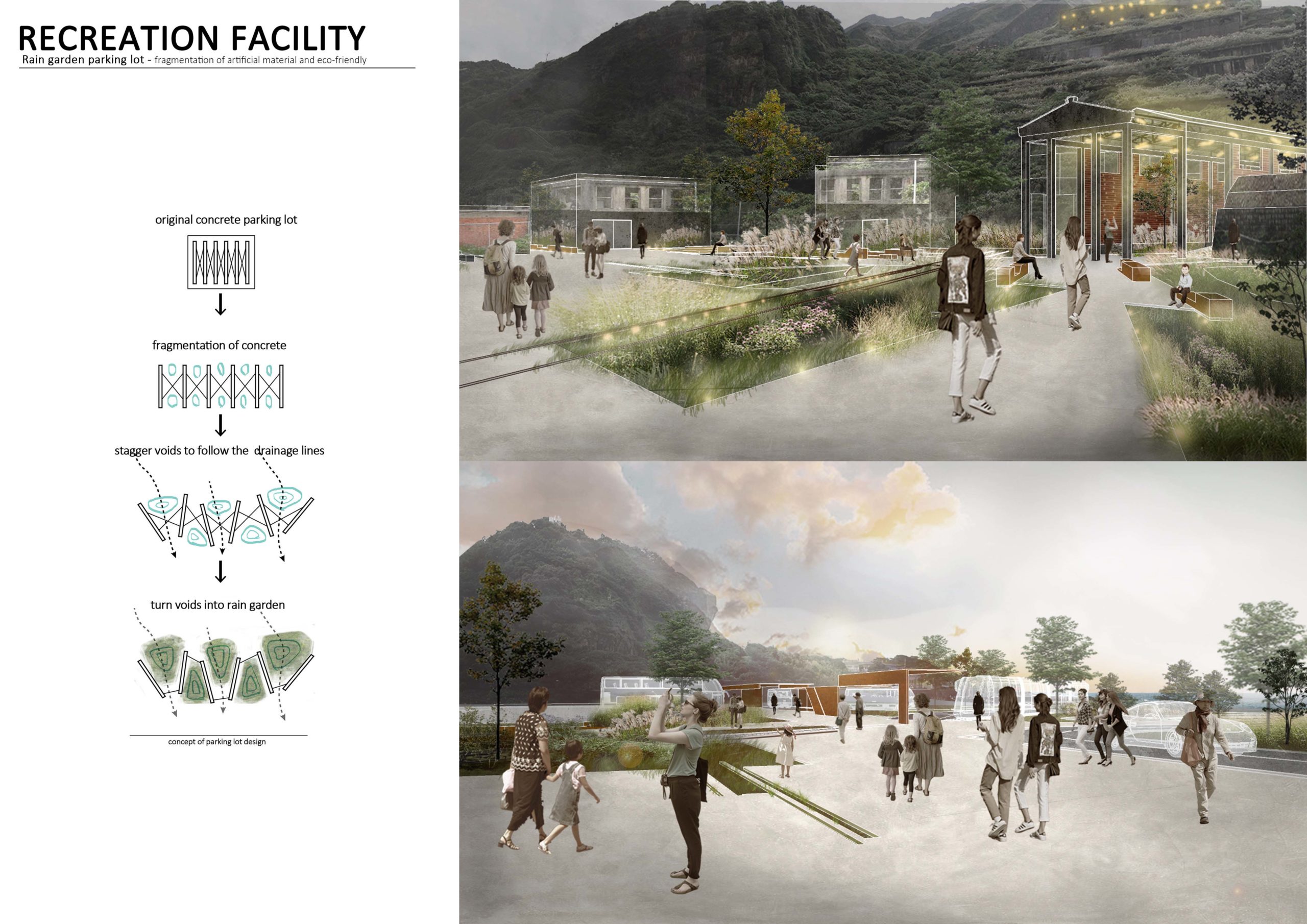 The Board: