REFLECTING BORMIDA is a territorial enhancement and awareness-raising project developed in a trans-scalar and multidisciplinary approach along the Bormida Valley.
The territorial scenario envisages the realisation of a diffuse system of architectural devices, understood as attractive poles located at focal points of interest, placed in synergy with each other through the linear asset of the Bormida river.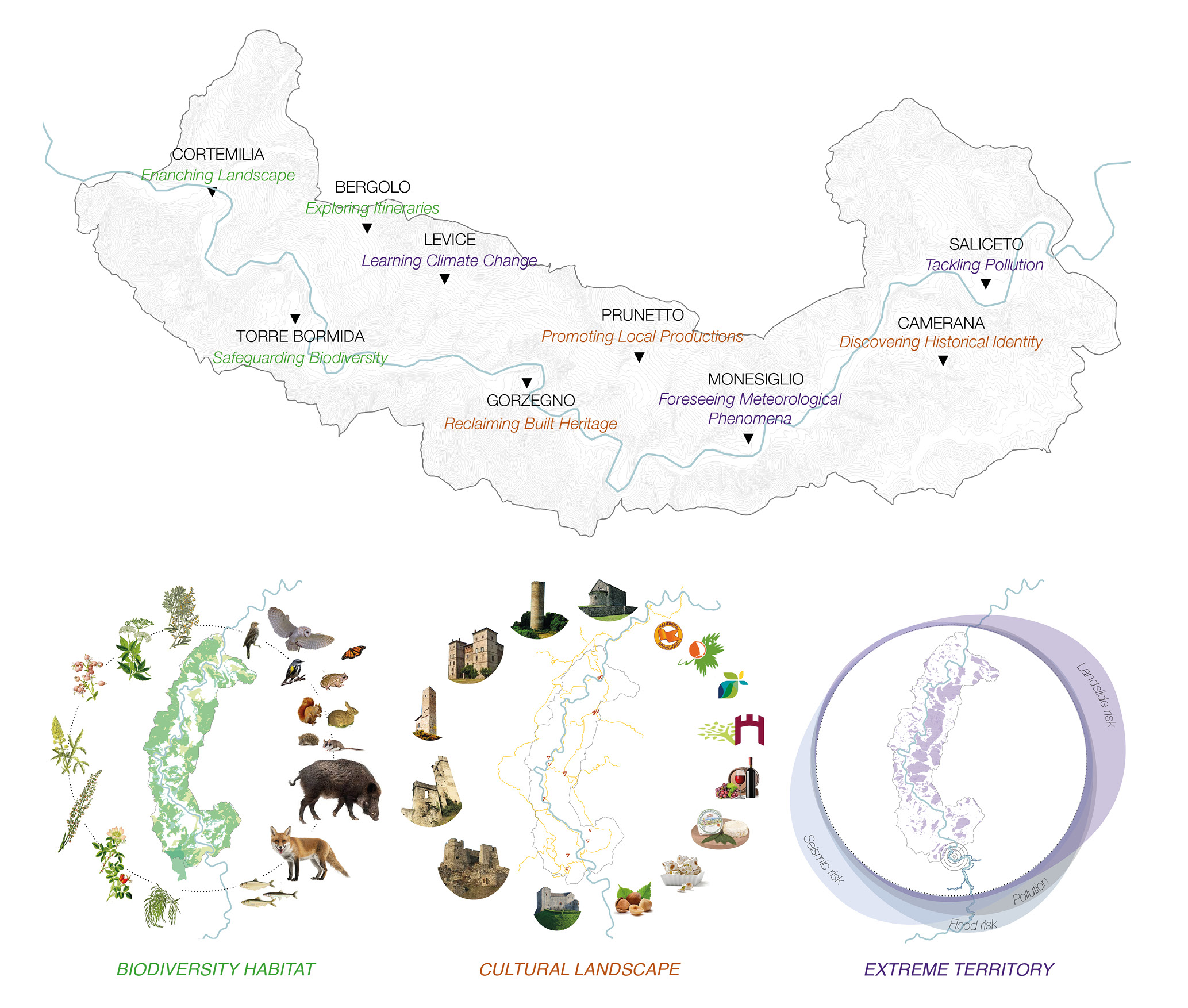 Recognising the Bormida Valley as a biodiversity habitat (variety of animal and plant species, natural reserves), a cultural landscape (historical villages, built heritage, tourist itineraries and intangible networks), but also an extreme territory (multiple natural hazards and anthropic pollution), the project promotes the reflection on the identity of the place through the focus on the environment (enhancing landscape, safeguarding biodiversity and exploring itineraries), the increase of the awareness towards the past and future fragility (learning about climate change, foreseeing meteorological phenomena and tackling pollution) and the recognition of the tangible and intangible legacies (discovering local identity, reclaiming built heritage and promoting local productions) devoting a specific issue to each of the devices located in the nine villages around the Bormida river (Bergolo, Camerana, Cortemilia, Gorzegno, Monesiglio, Levice, Prunetto, Saliceto, Torre Bormida) according to their individual characteristics, potentialities or risks.
The architectural device was designed according to the principles of sustainability, through a prefabricated and removable structure, and considering the different functions it could host and several ways it could be used.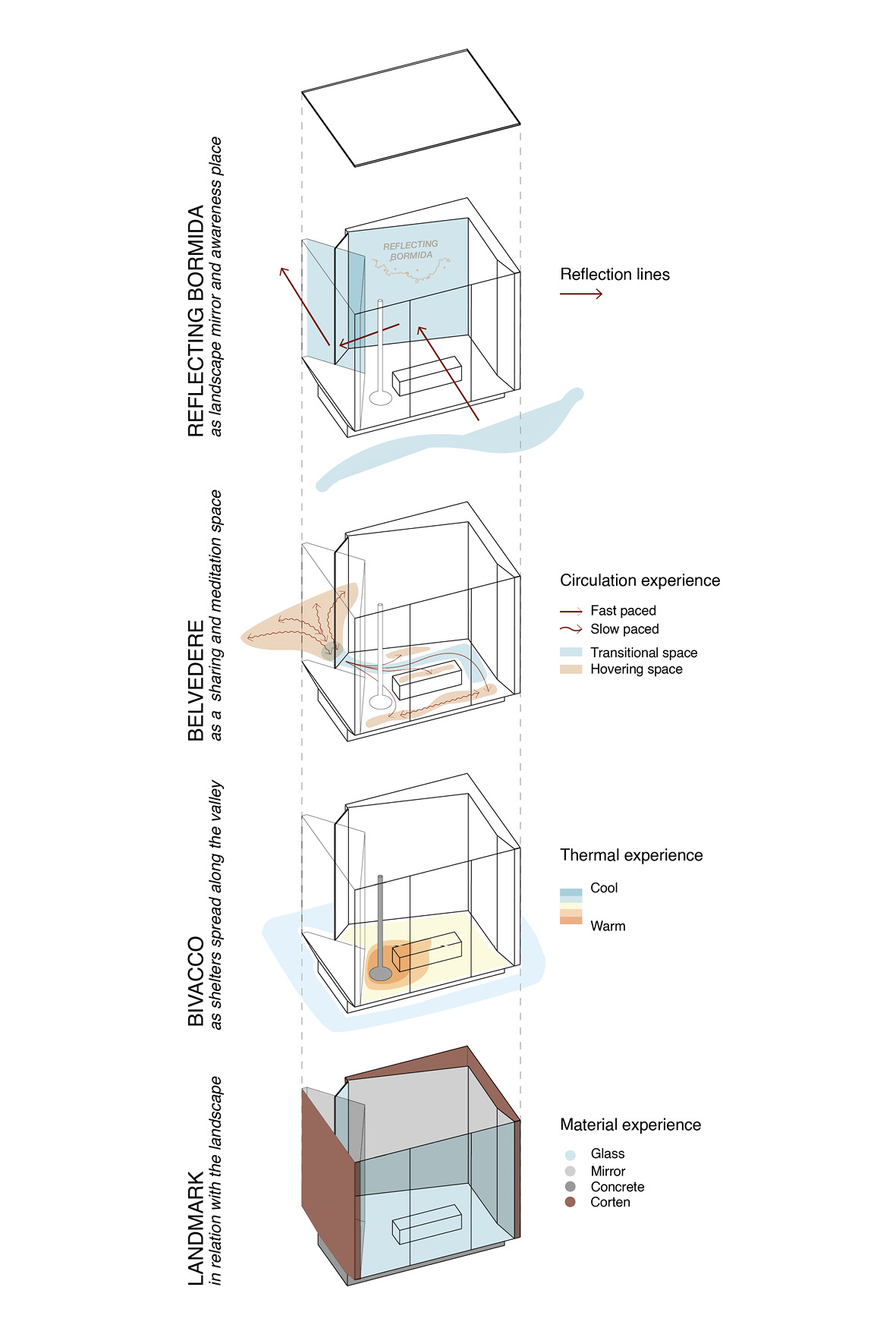 It stands as a LANDMARK in the territory, perfectly integrated with the landscape thanks to the use of the materials chosen for the construction and the large windows and reflecting surfaces that allow a direct relationship with the environment. It represents a BIVACCO within the valley, a warm and welcoming refuge in which to stop while exploring along the river. It acts as a BELVEDERE in which to enjoy the view of the landscape and experience spaces of passage and rest, making it a place for sharing or a space for meditation. REFLECTING BORMIDA takes the concept of reflection to the extreme, realising it tangibly, through the reflective surfaces that emphasise the beauty of the places, and intangibly, fostering an inner reflection by investigating multidisciplinary themes concerning the potential and fragility of the Bormida Valley.
The thematic uniqueness of the device and its replicability respectively represent the tool to enhance the area in which the single element is located, but above all the way to promote the identity and resilience of the entire territorial system. Crossing the valley and stopping in 'Reflecting Bormida' devices, a narrative exploration is realised, able to portray the identity of a territory, with the final aim of conscious and careful re-appropriation of the river and the creation of new cultural, tourist, productive and social relationships and sustainable development.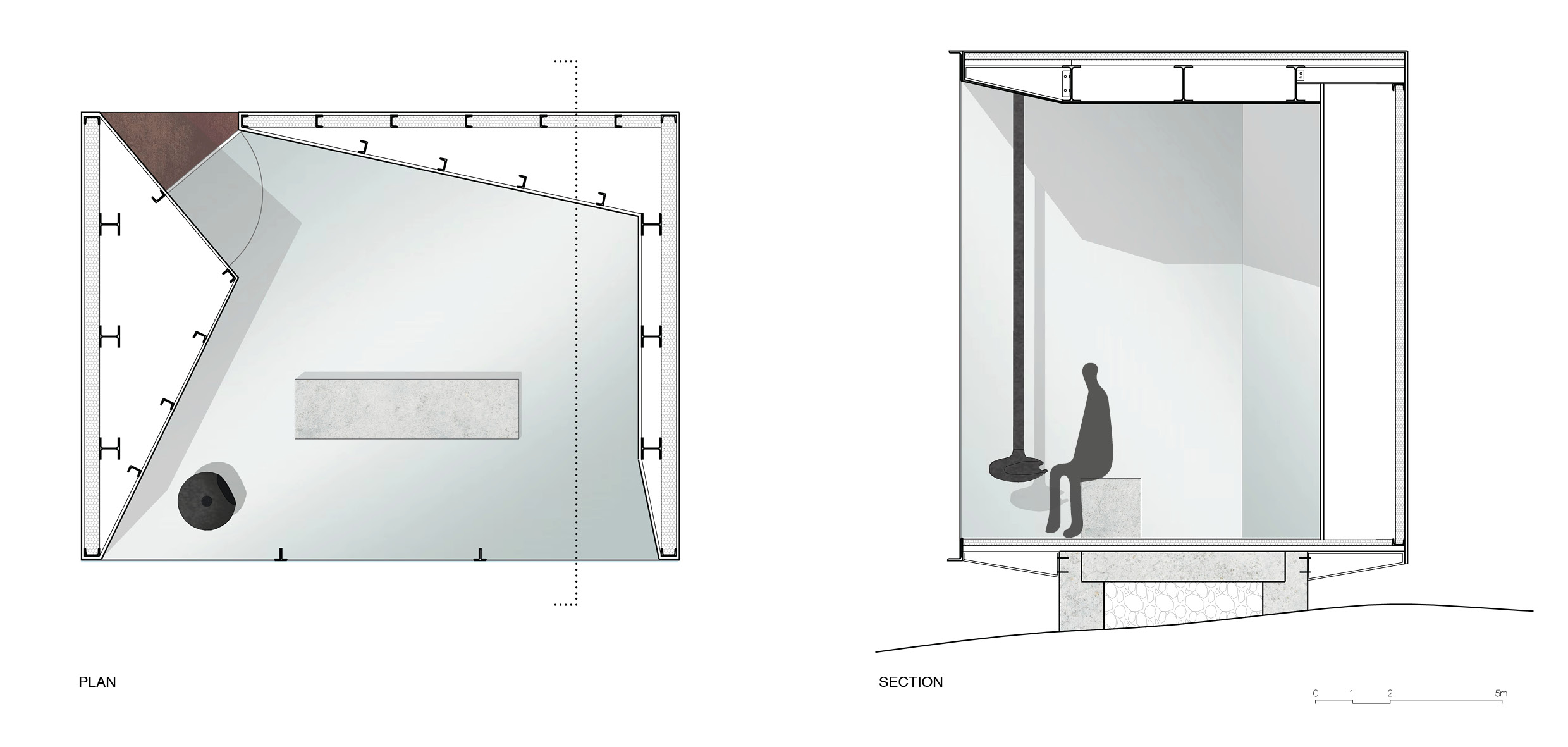 The Board: