The present diploma thesis deals with the reuse and rehabilitation of the central building complex of the Italian rural settlement Campochiaro (nowadays renamed as Eleousa) on the island of Rhodes in Greece. This forest settlement was founded in 1935 during the Italian occupation in the Dodecanese (1912-1943) and was designed by the Italian architects Petracco and Bernabitti. There were transported Italian lumberjacks settlers.The architecture of the buildings follows the rationalist standards of the period, with a Mediterranean architectural vocabulary.

The main building complex consists of three multifunctional buildings (administration, school, police station, shops, restaurant, doctor's office, apartments) and the church thus enclosing the rectangular square. Those buildings after the end of the Italian occupation functioned as a sanatorium (1947-1970) and then as school and barracks (until 2000). Today, only one part of building 3 and the church is in use and the rest is abandoned. All the square's buildings have undergone alterations and degenerations, internally and externally, not all in the same level. The houses of the settlement are still inhabited by locals. After studying the historical elements, the original Italian plans and recording of the current situation, it is proposing that the complex be operated as a "Cultural & Hospitality Center". It will work as a core of alternative tourism activities, aiming the contact of the "foreign" with the local element and the interaction of cultures. Campochiaro attempts to redefine the concept of a tourist accommodation as a cultural product and bring it into a experience for the visitor, linking it to its place, history and culture.

The buildings will now house uses such as accommodation, restaurant, café, cinema, local products shops, library, memorial exhibition, event room, traditional workshops and the forest protection service. The proposed rehabilitation study respects the original design by eliminating later additions that alter the typology or the morphology of the buildings. The new manipulations are made behind the visible level of the square and they are wooden or mixed light constructions, distinct from the existing buildings. The new configuration aims to serve the diverse requirements of the proposed shared multifunctional space, ensuring its adaptability to future uses. About the outdoor, the square is redesigned and behind the building 3, a playground and a fitness park is planned. In the building 2 a roof of wooden net and glass offers a multifuction space that works all time. New additions are the wooden cabins, in contact with the building 1 that houses the guest rooms, offering a private, different, accommodation experience overlooking the forest.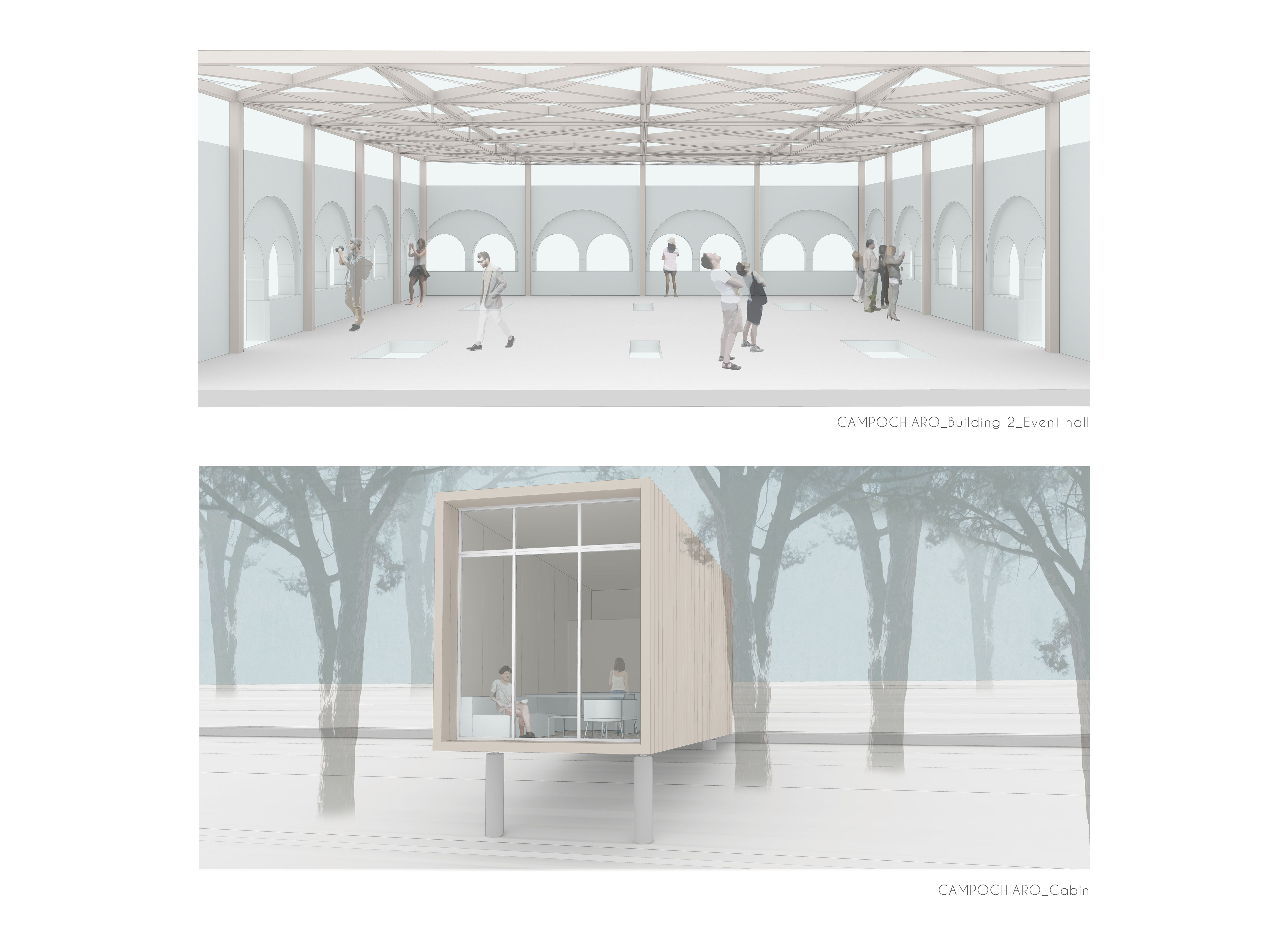 The Board: