The world has changed. In the blink of an eye, we are required to adapt to a new normality that has taken us by surprise. In recent months, we have adapted to new dynamics and ways of carrying with our daily lives that many of us did not believe possible, introspection and reinvention have become two of the most popular words we use when referring to this historical moment and all of this should be acknowledged by us; emerging architects must be aware of the way housing is conceived, which at this time is rather pragmatic and focuses on meeting minimum measurements and requirements to save as many expenses as possible, nevertheless, the pandemic that locked us up in our homes has shown us that housing quality goes beyond mere numbers.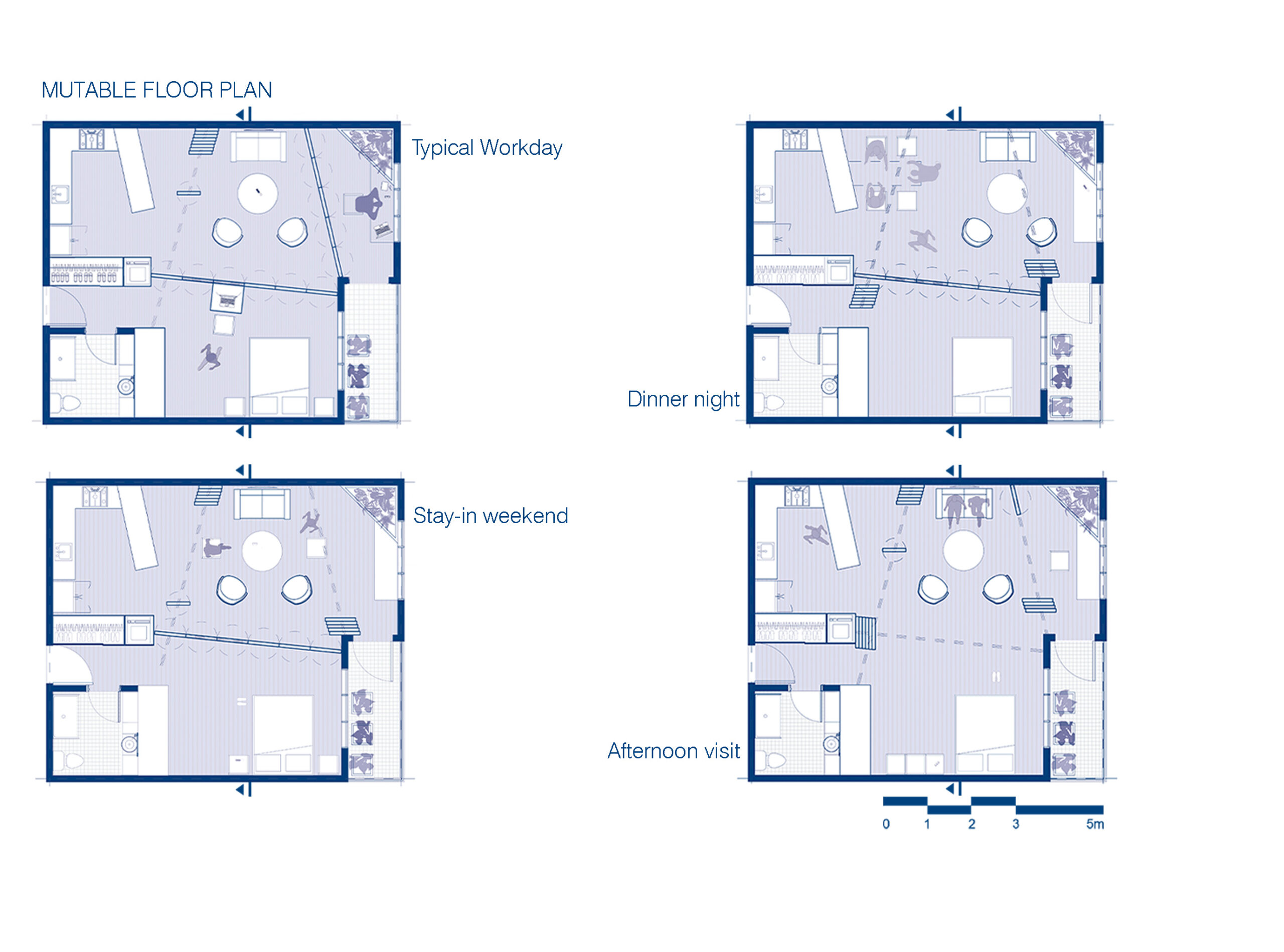 Taking the above into account, as Giulia's and Roberto's apartment is a polyfunctional place, it must be polymorphic as well, so instead of isolating the spaces from one another, this proposal seeks to blur the limits that exist between different areas of the house and allow its occupants to decide how to configure their home according to each moment's needs. This is achieved, first, by changing the conception of walls from fixed, monolithic objects to mutable, detachable, and reconfigurable boundaries, this results in the creation of experimental geometric spaces that inspire creativity. All this occurs thanks to the use of pivoting partition panels, which are, at the same time, whiteboards (type 1) and tables (part 2) that support Roberto's and Giulia's brainstorming processes. Entering the house has become a ritual for everyone, so the entrance is framed by the only interior fixed wall in the house and a closet where all the disinfection products are put to have on hand, but which also includes a washing and a drying machine and a space to store clean clothes that Giulia and Roberto put on before leaving. Hygiene has become even more fundamental than before in our daily routines. Nature also plays a crucial role, this is why a mini home orchard is proposed in the terrace and has continuity inside the house with an exclusive corner for plants. The experience of inhabiting a house must be comfort-driven.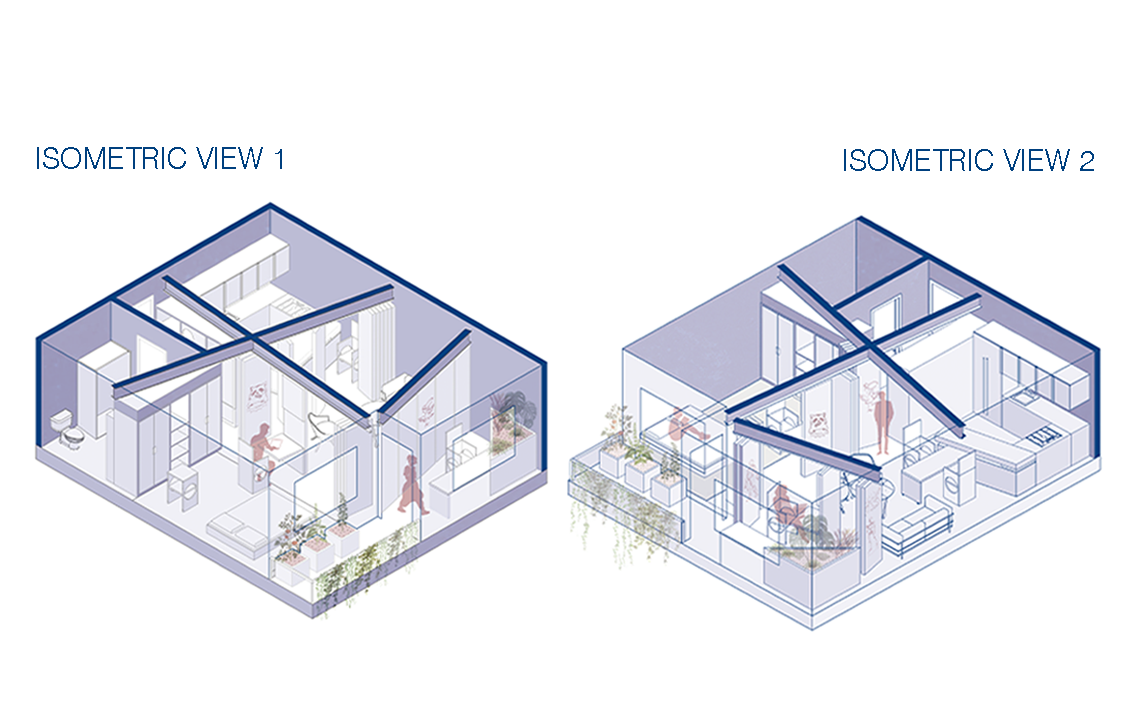 Since this design makes plenty of room for experimenting with furniture, the idea of reconfigurable space was also applied to objects, resulting in non-structural beams that support the panels and also make great shelves, chairs with wheels that transform into nightstands and a dining room table that comes out of the kitchen bar. The more exploration there is, the more discoveries we make and bring into the table of housing quality discussion.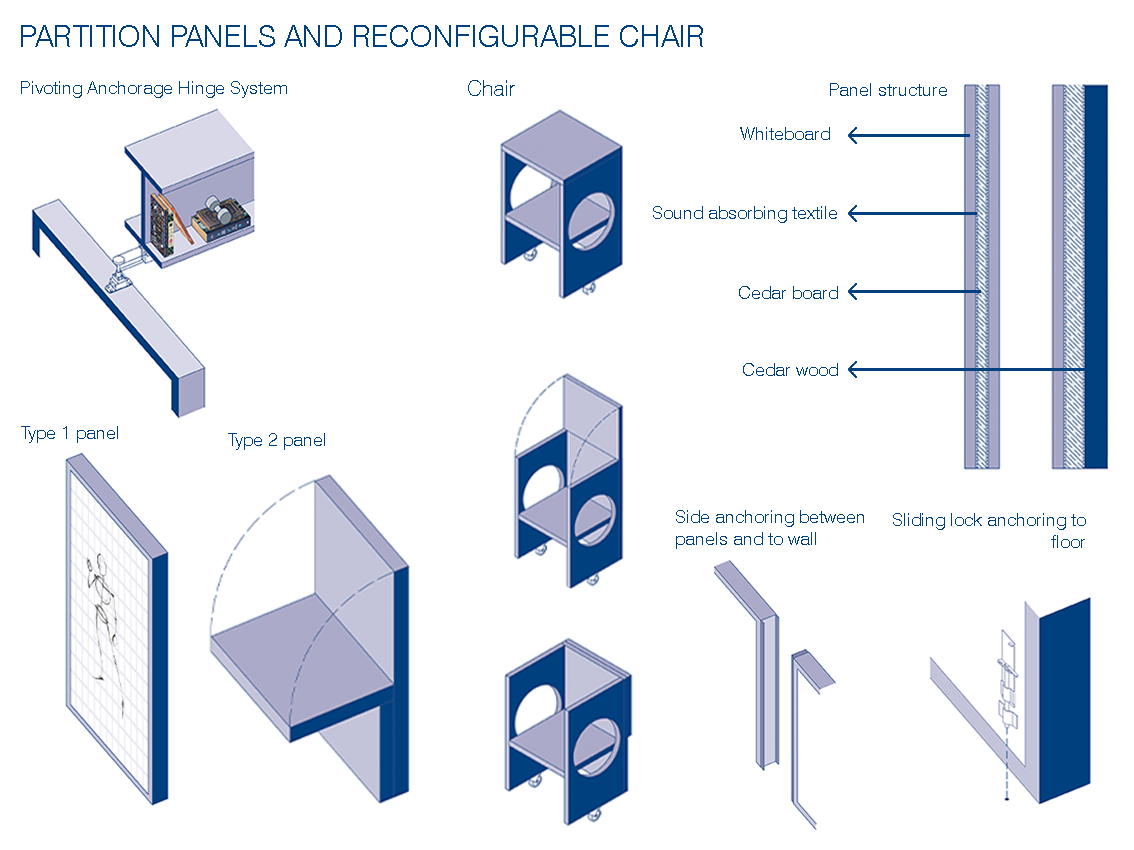 The Board: