The new post corona apartment of the young couple Giulia and Roberto gives the possibility to work and live at the same time without having to compromise.
The design creates an urban apartment with a total area of 67 m², which enables the young couple to design the apartment flexibly with just a few extra pieces of furniture in addition to the permanently installed integrated room unit.
The omnipresence of the jungle sets new IMPULSES FOR URBAN LIFE WITH NATURE and is good for the personal health and the climate!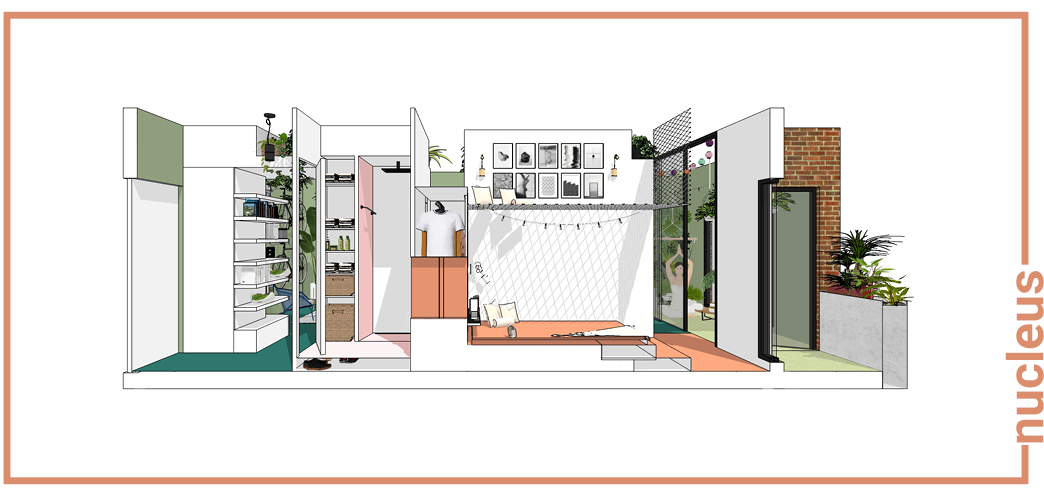 The center of the new apartment is a CUSTOMIZED ROOM UNIT: the unit integrates all necessary areas of the apartment, e.g. bathroom, sleeping area, storage space, kitchen and the entrance area. The unit also houses a second level: here you can find the LEVEL UP, which invites you to linger in its net while reading a book. It can also be used as a guest bed. No space is wasted horizontal or vertical. Special about the position of the new unit is the balanced separation of the remaining areas of the apartment for the work area and the living space. In the case of home office, the living areas of the apartment can always be used without disrupting the productivity of the working person. The LIVING AREA is designed as a large and FLEXIBLE surface that is served by the unit. The space can be designed freely. The view of this area flows into the URBAN JUNGLE – an absolute highlight of the apartment. It is like an extension of the balcony and can serve as a recreational area like a winter garden. It invites you to relax and addresses the PERFECT AFTER-WORK MOMENT. In times of corona and possibly restrictions on freedom of movement, this can offer a replacement for parks and public outdoor spaces. The resulting BIOTOPE should not only spread along the facade: the upper area of the unit receives a GREEN CROWN. The green planting improves the indoor climate in the apartment. The plants also serve as filters for air pollution in the urban city with which we are struggling more and more.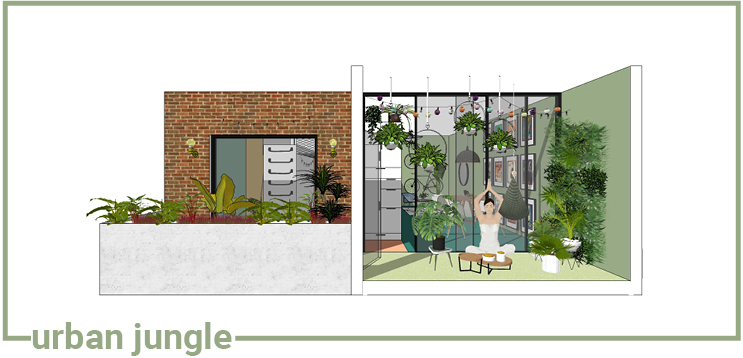 The PRODUCTIVE OFFICE area is equipped with innovative furniture such as a height-adjustable table and pin boards that can serve as a inspiration wall for the designer or as a background for video conferences for the employee of a consulting company. These hinged elements automatically define the boundary between the two offices when they are in use. A large additional table that folds out of the unit enables space to work and be creative. These mobile elements are supplemented by moveable panels that cover the work space and the chaos that might have arisen during the working day. In this way Giulia and Roberto can enjoy the end of the day without constantly tripping over their work – according to the motto "out of sight out of mind".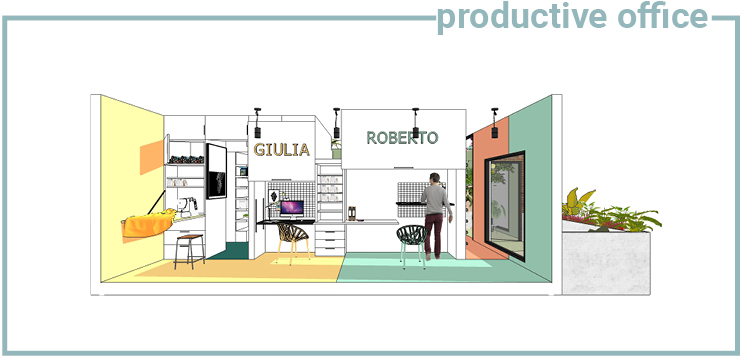 The Board: