Istanbul is a city whose history has been in a continuous paradox between Eastern and Western cultures as it is the point that marks the geographical separation between Asia and Europe. To distort visitors' sense of location while still satisfying the expectations of a tourist, a hotel room floats on the Golden Horn– a fjord that divides the ancient town from the modern, the East from the West, and Asia from Europe. The dynamic design introduces a modern interaction with Istanbul through architectural reminiscences and movements delegated by sun, water, and form.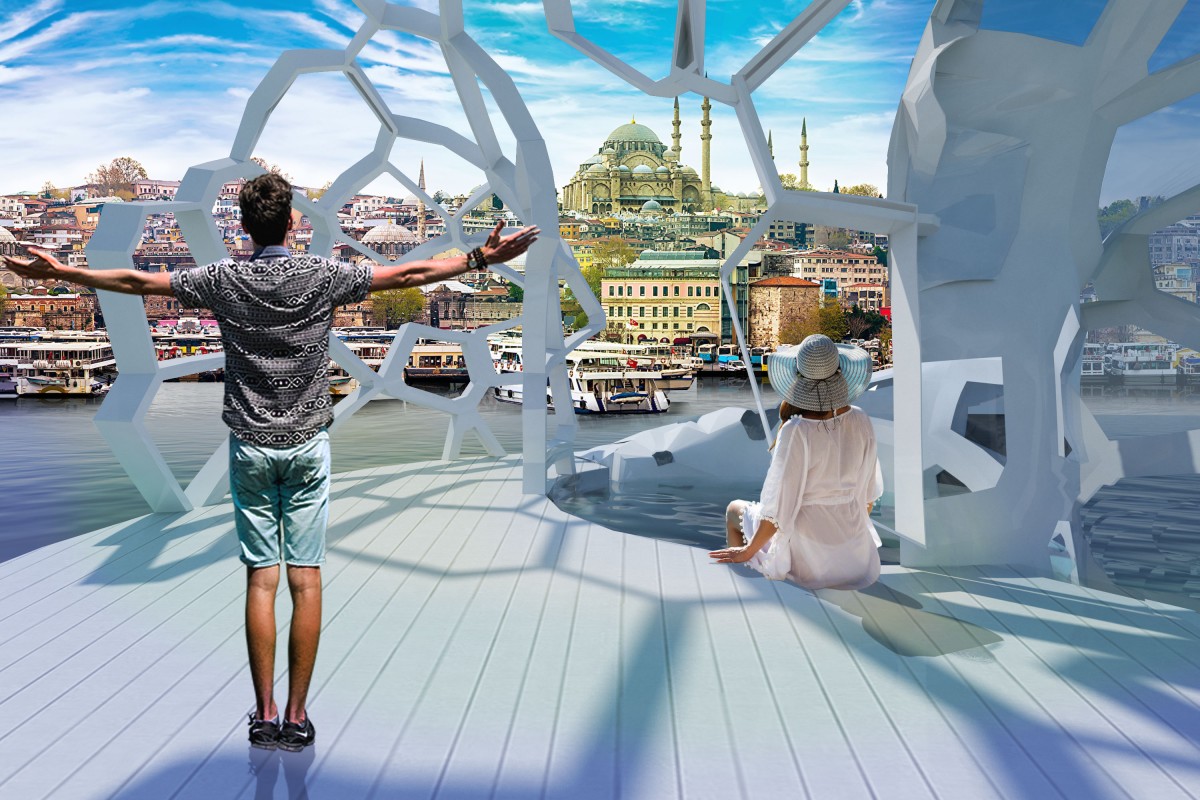 STRUCTURE: Inspired by local geometries, the structure reflects Istanbul's Eastern history with a Western twist. The fiberglass material provides a strong, yet light-weight structure. The high density of the concrete-foam floors enables impermeability and floating capacity. The result is a structure that stands 5 meters tall and divides the habitable 25 sqm from the 30 sqm platform. SELF-SUSTAINING: For energy generation, a coat of monocrystalline silicon is installed on top of the structure for the electric shower and toilet with an emergency battery. A filtering machine is sandwiched along the opaque stair walls to filter the private basin. LIGHT DIFFUSION: Within the stair's skin enclosure, thick glass blocks allow for sunlight to naturally fade into the darkness of the water. The basin also serves as an oculus that evenly distributes the light from above. SCENARIOS: The dual-level unit provides visitors with a variety of activity options such as star-gazing under the open-air pavilion, soaking in the private basin, and sleeping like a fish in an acoustically-sound immersed chamber.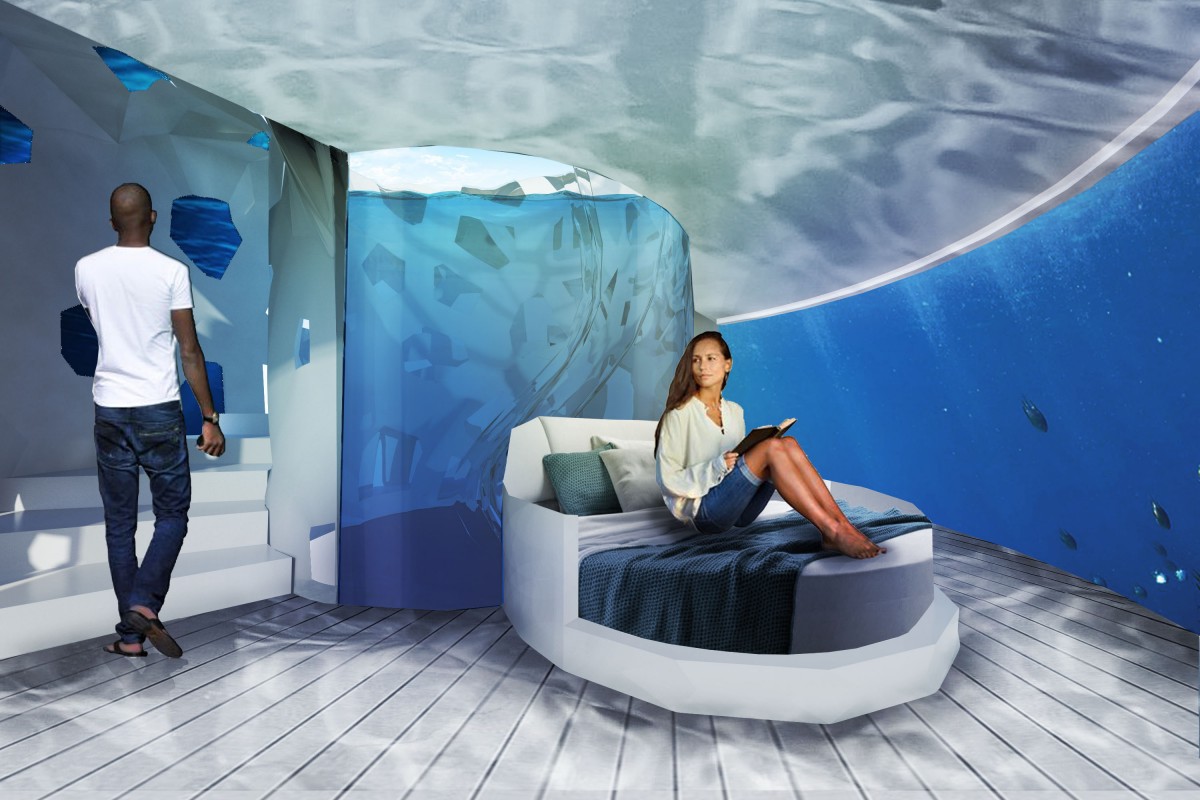 A lofted hotel unit with a shape inspired by the local Nazar Boncuğu (evil eye), provides visitors with a unique horizontal and vertical experience of the Golden Horn. Throughout their stay, the facade will frame monumental subjects of the city while following the motion of the water leaving visitors confused on whether they are in Asia or Europe. At night, the visitors will escape the noise of Istanbul and descend to the submerged sleeping room. Here, the feature bed is cocooned by glass for an exclusive perspective on local sea-life. Visitors will continue to be enlightened by the ancient Turkish lifestyle with a private hammam-designed bathroom tucked under the stair. In the morning, the visitors will be awakened by the soft, diffused light entering the bedroom from the oculus basin. They will ascend to the living platform with a new horizon view of the city while still pondering the direction for what is East and what is West.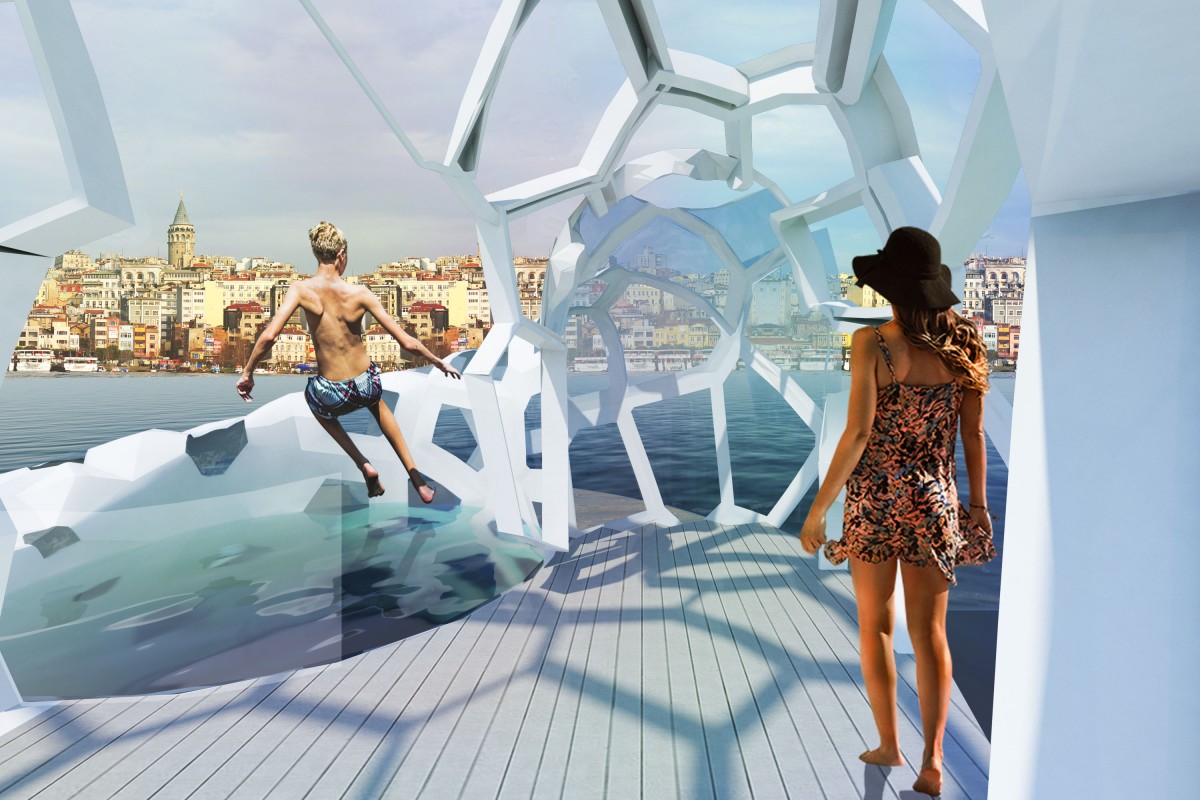 The Board: