"Lamberos lithos" (brilliant stone) – the meaning of 'marble' in greek-
A material evocative of glory, immortality, perfection. Yet, monumental scars are the sites of its extraction. Landscapes evocative of loss, reminiscent of death.
In an effort to reclaim land and in search of a re-purpose for the quarry, compatible in spirit with the 'genius loci' and its essence of bipolarity, the aim of the project seeks to create a new burial ritual, paralleling the site to human loss, the external to internal trauma, and charts the path towards their mutual healing.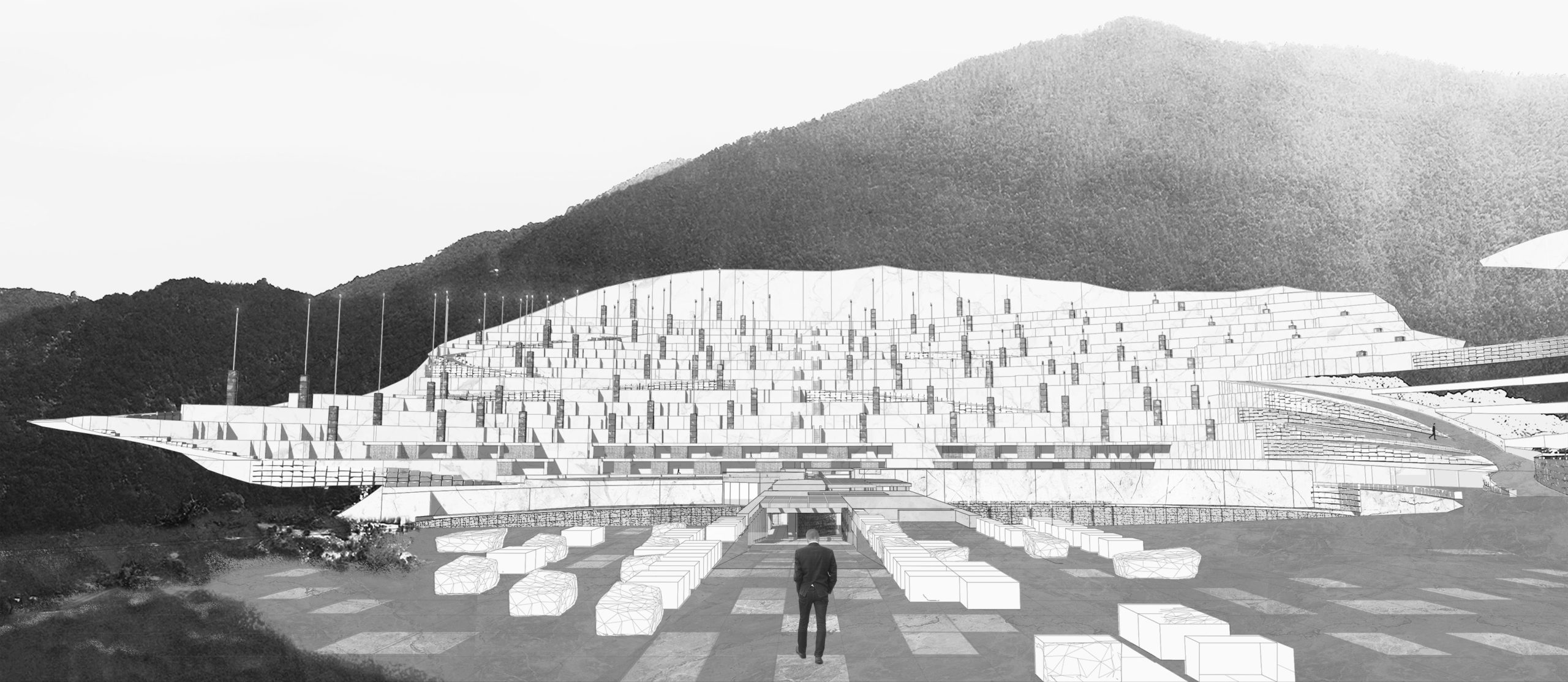 The physical characteristics of the site, in a spiritual reading, reveal five morphological zones (life- loss- threshold - passage- afterlife), that each provide an appropriate location for the development of the mental, emotional and material transitions of the ritual. A strong bond is, thus, established between the landscape, the material and the human. The architectural design concept is of a linear passage, accentuating the process of the ritual as a pilgrimage, respectfully crossing the site, leading through the five zones, while it integrates the structures necessary to the functional aspects of the procedure. The structures on the ground level consist of a reception area, waiting room, ceremonial chamber, banquette space, the 'Vessel of Life' delivery room, and a crematorium with a processing laboratory at a lower level. The passage terminates at the imposingly scaled tiers of the quarry, that inspire a transcendental experience, which is considered ideal for the setting of the two burial monuments, each signifying the return of the material to its origins and the human remains to earth.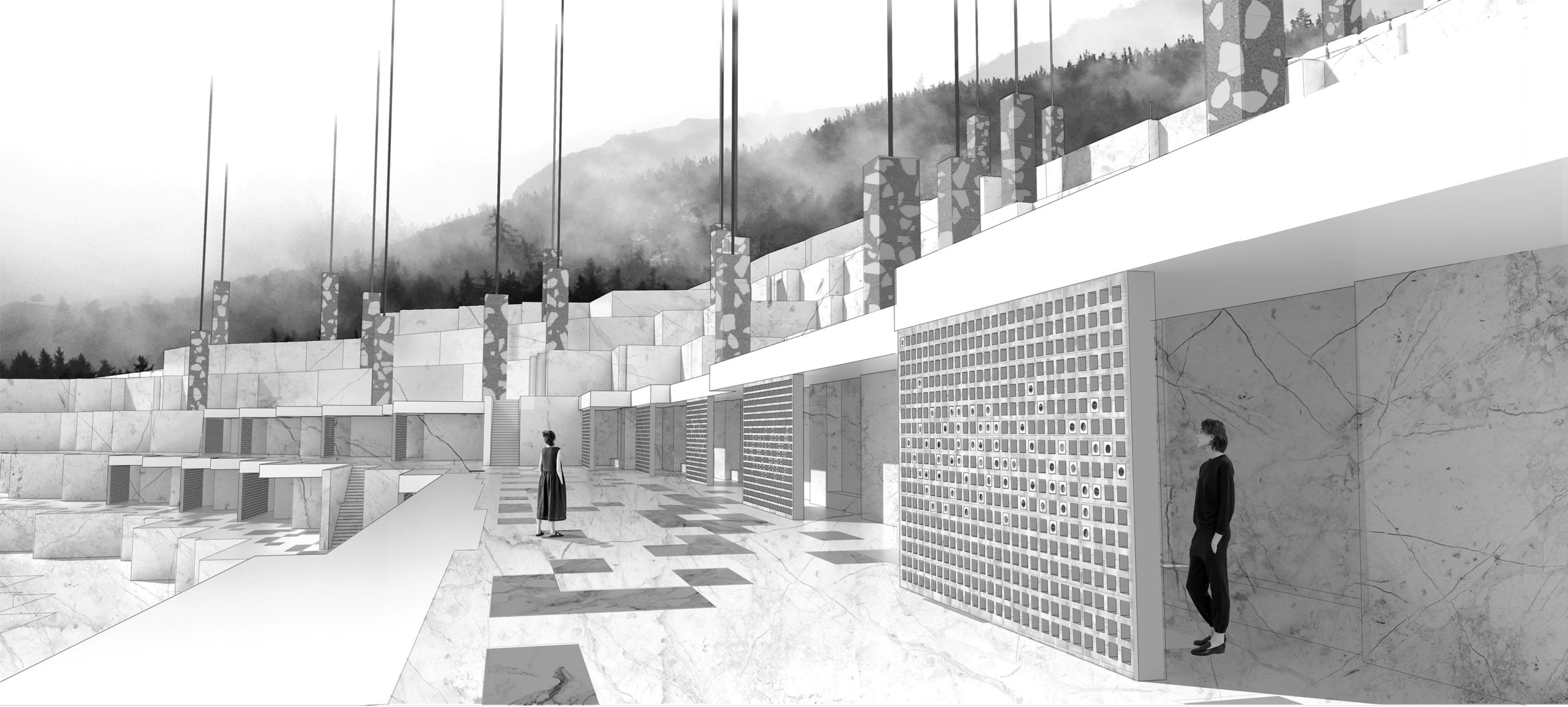 The Memorial of Life, in the form of a temple's frieze, extends along two tiers of the quarry and is gradually filled by the human offerings of the 'Vessel of life', made of the marble and human remains, thus symbolizing the reunification of body and soul. The Mount Memorial, as a palimpsest of lost materiality and form, consists of columns grounded on the tiers and rise to the height of the former level of the mountain, preserving the memory of its form. Stacked by the 'Spondyls' that are compounded from the marble fragments on site left from the quarrying process, they, in time, substantiate their presence. Thus, experiencing this passage, the bereaved may perceive the 'distance' that initially separates one from redemption, 'descends' within the most confining level of the path, then passes through the deconstructed space of 'empathy'. Sensing the void of the site and the ruins of the material, proceeds to the 'remembrance' chamber, bathed in eastern light and carved inside a marble tier, presaging the forthcoming integration. After receiving its product – the 'Vessel of Life'- the relative ascends above the water - the mythical boundary of the other-world – to reach redemption, through the act of 'offering' , whereby loss becomes a fertile part of the landscape and the ones that remain, and contributes to the rebirth of the material and the ones that have passed.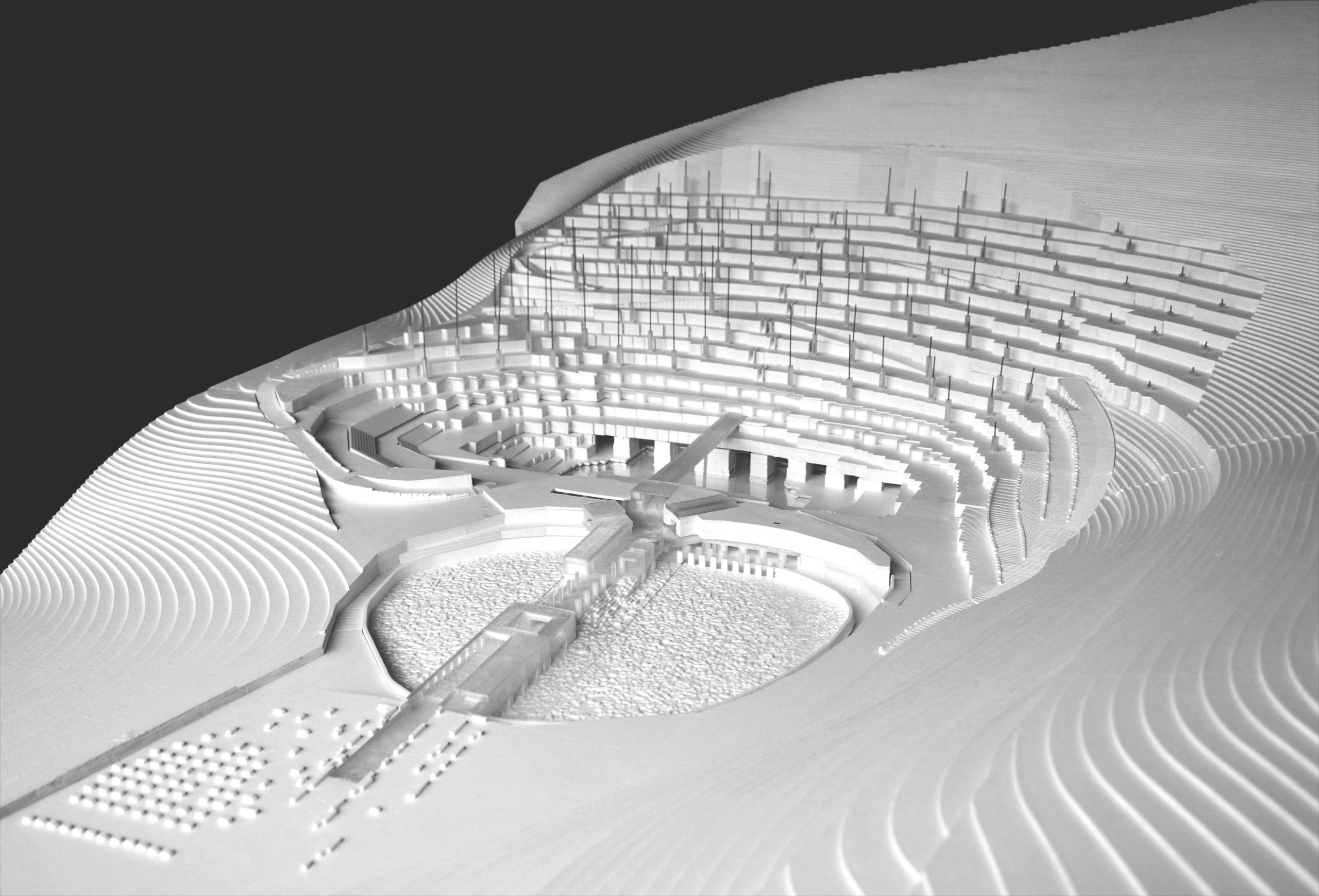 The Board: