"O" is like diamond. Like self sufficient space. Something flOating and a place to feel whOle.
This diamond double/twin "special room" is floating on the waters of the Lake Iseo in the neighborhood of City Milano, Italy. It is not far from the beachfront and easy to get in through a little paddle boat. Once the guests move to the little island, they are isolated in their little oasis surrounded by peace and world of water. This is an unimaginable place to relax and refuel with new energy.
It is double-level space (total 25m2), equipped with all the necessary facilities for relaxing and has tremendous views from all the 4 sides of the room. Surrounded by Smart Glass structure, which has integrated new type of transparent Sun collectors plus outer shell-structure, as sunshades as well having integrated sun collectors to reinsure maximum solar-energy usage. Bathroom is centered in the middle of the room surrounded by compact kitchen from one side and living space from the other side. Living space has a little terrace in front, where the entrance is, when arriving by boat. Open space stairs lead to the upper level, where you can find double bed room. Even the ceiling is made of a glass structure, so that the guests can sleep under the sky and enjoy the moonlight and million stars, while also being able to close the shades and feel cozier in the room without outdoor view. Construction Space is made of three main materials. Steel (main construction of Glass fronts and construction of outer layer for Shades (which have integrated sun collectors) Glass is all around the room and allowing the space to be maximum integrated in the nature and environment. Wood is covering the basement / floors, stairs and furniture. Sun collectors are mobile panels located all around the room. They operate through remote control and support desired temperature for the guests.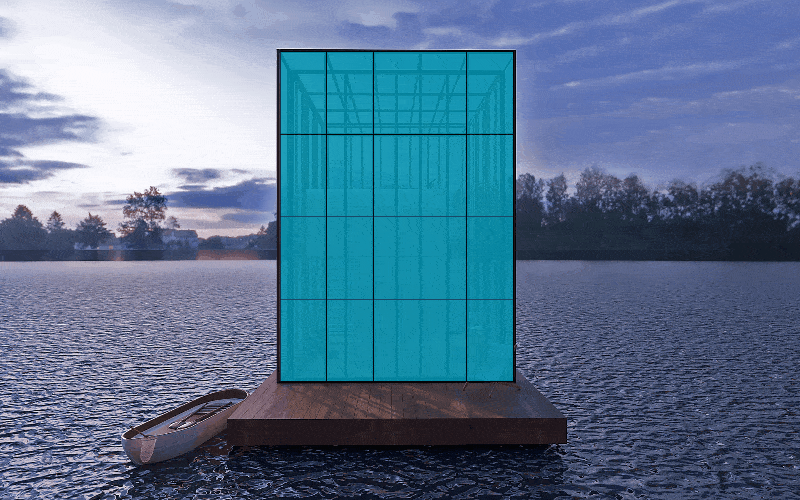 The Board: