The project intent was to come up with the design for a prototype of community housing for the disaster prone River Delta environments that would exhibit better disaster resilience with changing climatic conditions and would capacitate the 'to be' inhabitants to build or rebuild their habitats by themselves.
The site chosen for this dissertation is Majuli, the world's largest inhabited river island encompassed by the Brahmaputra River in Northeast India, in the disaster-prone State of Assam. The stilted bamboo homes of the natives get flooded at least once in 3 years, swept away by cyclonic winds, and island itself is located in close proximity to earthquake fault lines.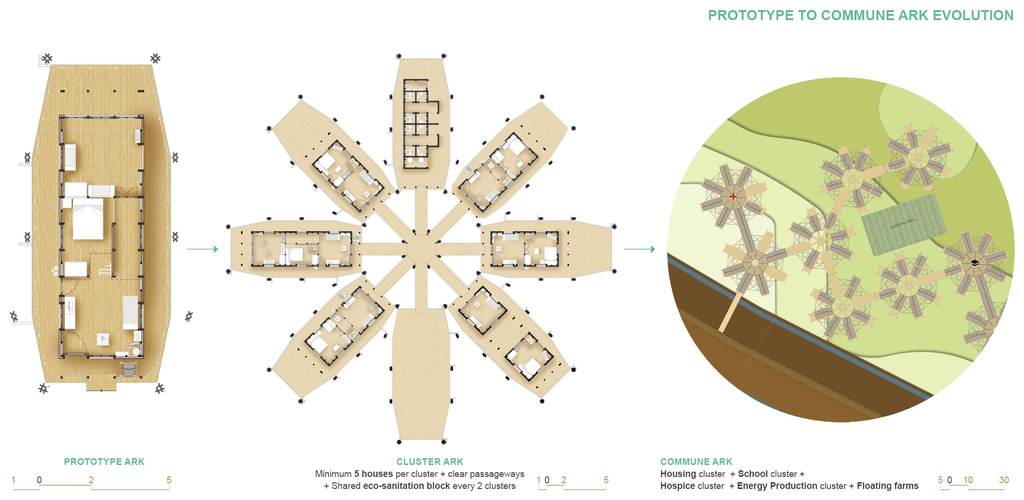 Studies by UNHR and the High Powered Committee (HPC) on Disaster Management indicate that amongst all natural disaster types, floods are of foremost importance, in terms of loss of human lives and properties. Researchers from the Netherlands and UK, by means of calculations for gauging flood vulnerability, have pinned down cities and civilizations planned on River deltas as being the most vulnerable to multiple challenges, the most hazardous being Flood risk, due to river discharge, Bank-line Erosion & Sea level rise due to climate change, apart from other disaster hazards, as a consequence of the afore-mentioned hazards as well as site geography. Every year, the Brahmaputra floods and erodes the Majuli island, creating havoc in the life of the Majulians. Covering an area of 1325 sq km in 1917, as of today Majuli has been reduced to roughly a 300 sq km. Since 1991, 35 Majulian villages got washed away. The erosion affected communities move inwards every year and today, about 10,000 displaced households dwell in unofficial camps along embankments and PWD roads.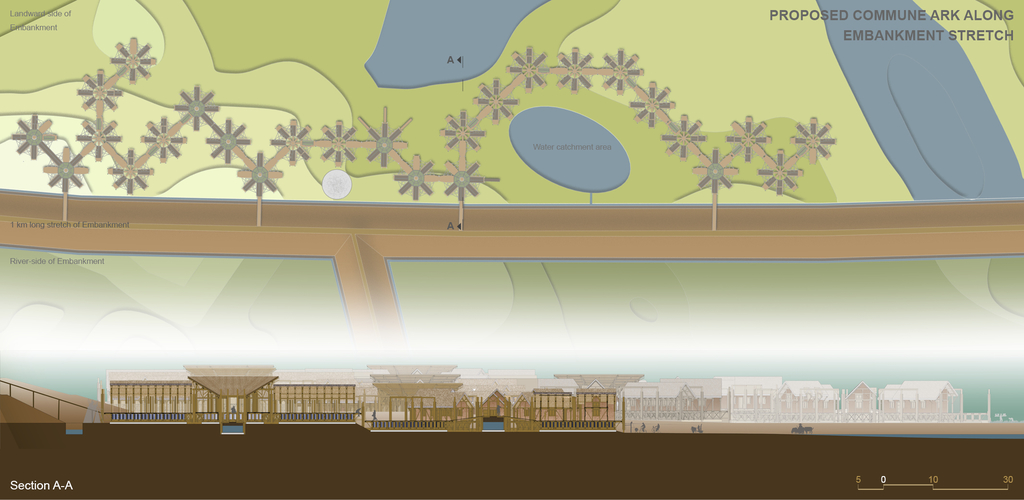 From the Prototype to Community level, Commune Ark has been designed with an intent to Not Resist But Co-exist with natural conditions in a low-lying deltaic environment and to become self-reliant due to indigenous floating farms and off-grid energy systems. I.Prototype Ark 1.Modular plan: Designed on a grid of 1.3 by 1.3 meters, the smallest house with area of 45 sq m can be incremented to 75 sq m at the maximum. 2.Buoyant: According to load calculations for buoyancy, 1 sq m. of live + dead + weather loading needs to be counter balanced with 0.02 cc of air to float and hence 99 sq m of the ark base has been packed with 120 airtight barrels of 200 litres capacity each, to enable the ark house to rise up to a minimum of 1.5 metres during flood. 3.Local and recycled materials: Bamboo, rattan (a strong creeper species) and sun grass for thatch are natural materials abundantly available on site which are clubbed with materials recycled such as plastic water barrels and G.I sheets and metal pins and dowels are sourced from the mainland for building the community. II.Cluster Ark 1.Radial configuration: 8 basic ark prototypes can be clubbed in radial pattern, forming a cluster. 2.One cluster, many purposes: By introducing a octagonal core structure to fill the void in the typical cluster, a housing cluster can be transformed into a hospital, school, etc III.Commune Ark 1.Linked network: 26 clusters arks;a floating & interlinked arrangement along 1 km stretch of the embankment.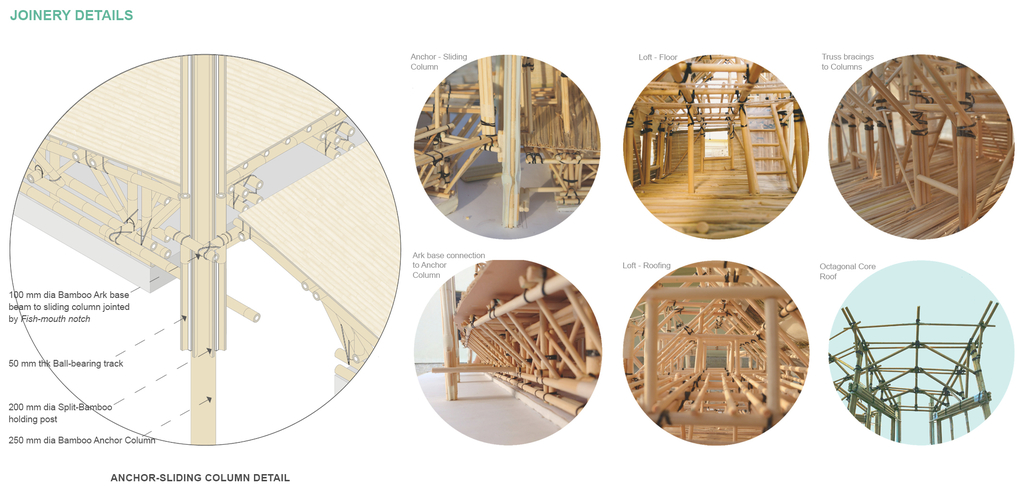 The Board: