The territory of Limone Piemonte (1010 meters above sea level), a well-known ski resort in the province of Cuneo, is dotted with hamlets known locally as "Tats", or "Tetti". At the time of the last draft of the Municipal Statutes (1550 A.D.), the hamlets were inhabited by two thirds of the population. Since the early twentieth century, in correspondence with the transformation of Limone from agricultural country to tourism, the minor fractions were almost totally abandoned.
The thesis is aimed at the recovery of three "Tats", in a state of ruin, placed along the path that leads to the Capanna Chiara shelter at Monte Cros.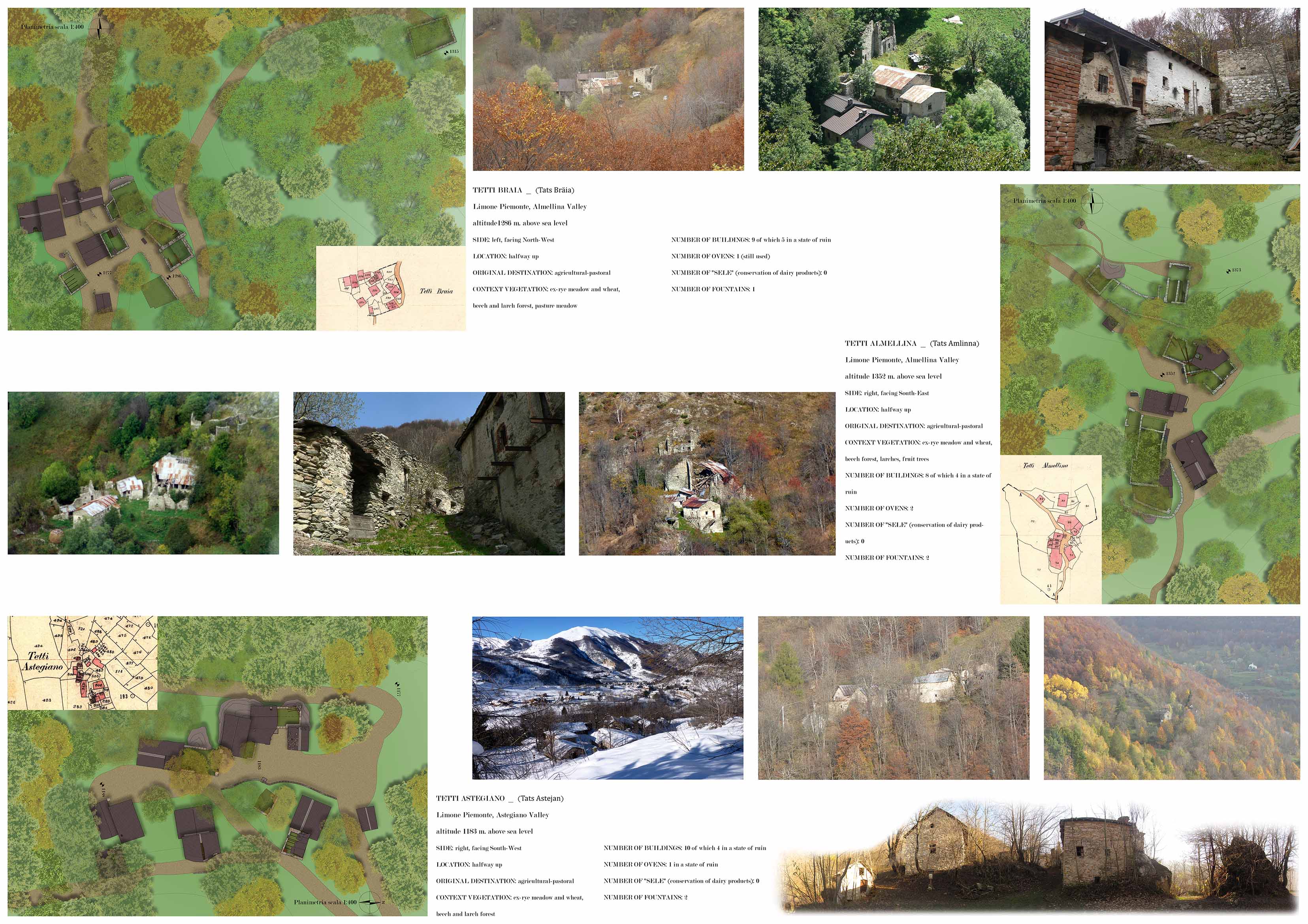 The main objective is the development of an alternative to further overbuilding in an already saturated territory, which satisfies the needs of accommodation facilities and stimulates knowledge of the territory and its history. I also wanted to integrate a theme, on which the GAL (Gruppo di Azione Locale-Local Action Group) manuals are very vague, which is how to treat rural buildings in a state of ruin. Once made a conceptual synthesis of the various, possible, intervention methodologies already adopted or adoptable in similar situations, I have chosen the one that is most suitable for my case, pursuing the respect of the ruins and their history, but also the possibility of efficient and comfortable use in unpleasant weather conditions.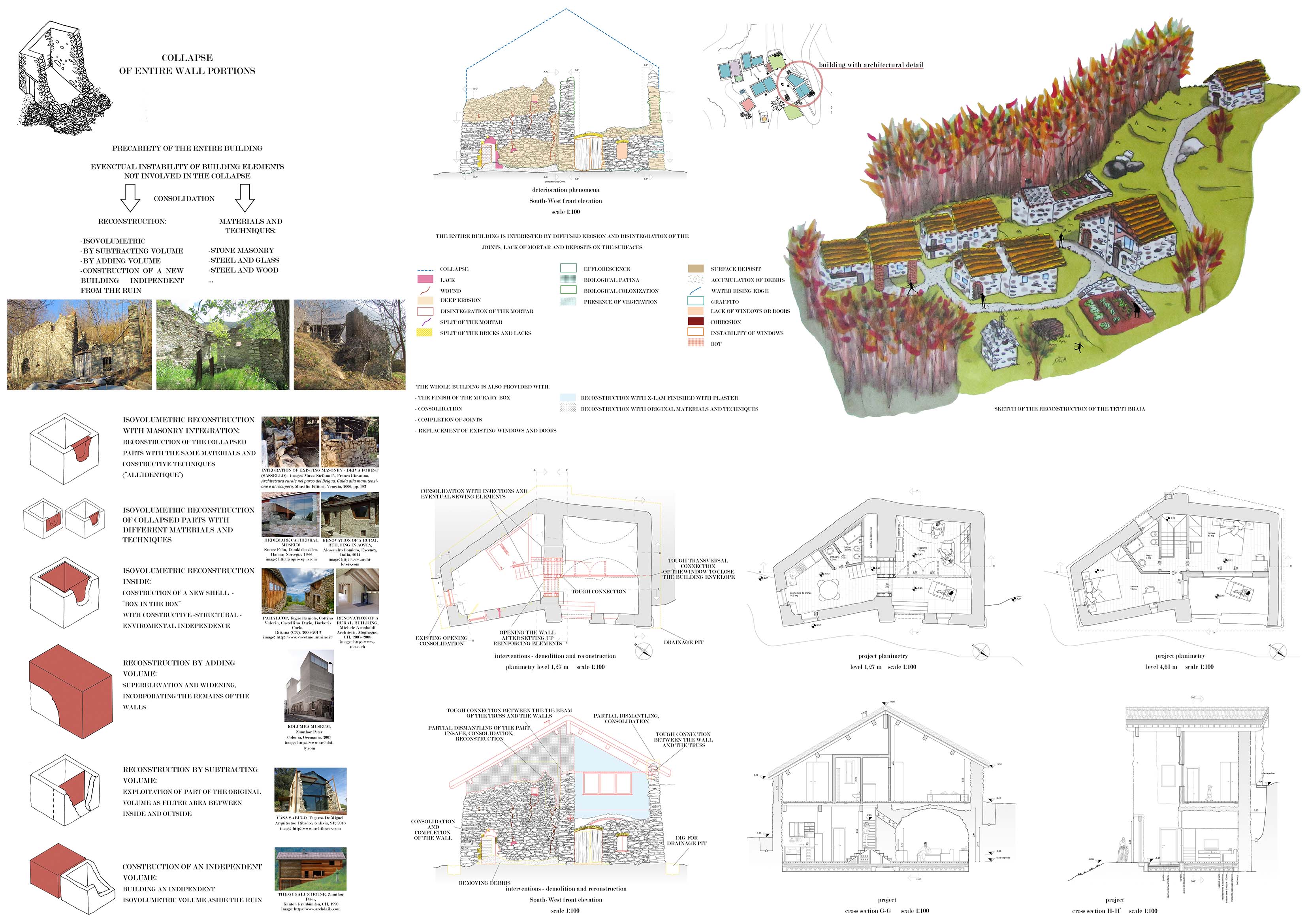 The multi-building hotel is the most appropriate destination for the current splitting of properties and fits with the needs of the country. The construction of a cog railway changes the current Land Use Plan. Regarding the architectural interventions, I decided to make the masonry play its functional role again. In instances where substantial portions of the buildings were absent, my choice was to move the façade back from the original perimeter, keeping the edge of collapse. The roofs are rebuilt with the original shape, made of traditional technology and straw mantle. *Among the various hypotheses to explain the etymology of the toponym Limone there is a jargon expression used by the same inhabitants "limonaschi". As tradition goes, when they went to some other place, as they returned home they used to say: "anan a li munt" or "back to the mountains". **Thanks to Giacomo Bellone, greatest photographer and reporter of the hamlets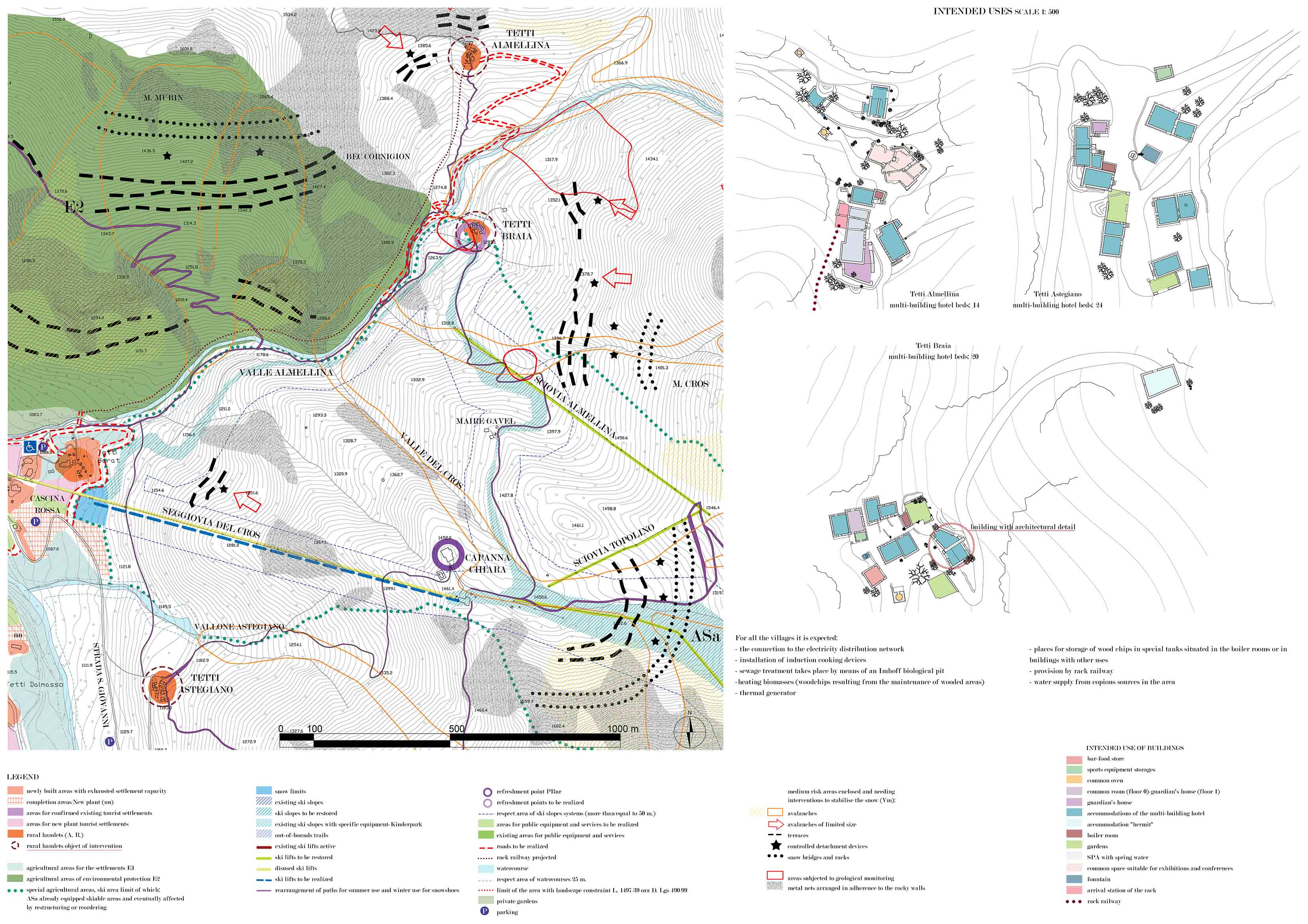 The Board: