Ebola is a deadly virus that has killed hundreds of individuals in West Africa in 2015. This is the worst recorded outbreak of the virus. The fatality rate of Ebola can be as high as 90%. No vaccine is available, nor is there any specific treatment. Originating in Guinea, Sierra Leone and Liberia, cases have now been confirmed in Nigeria, some countries in Europe, and the US.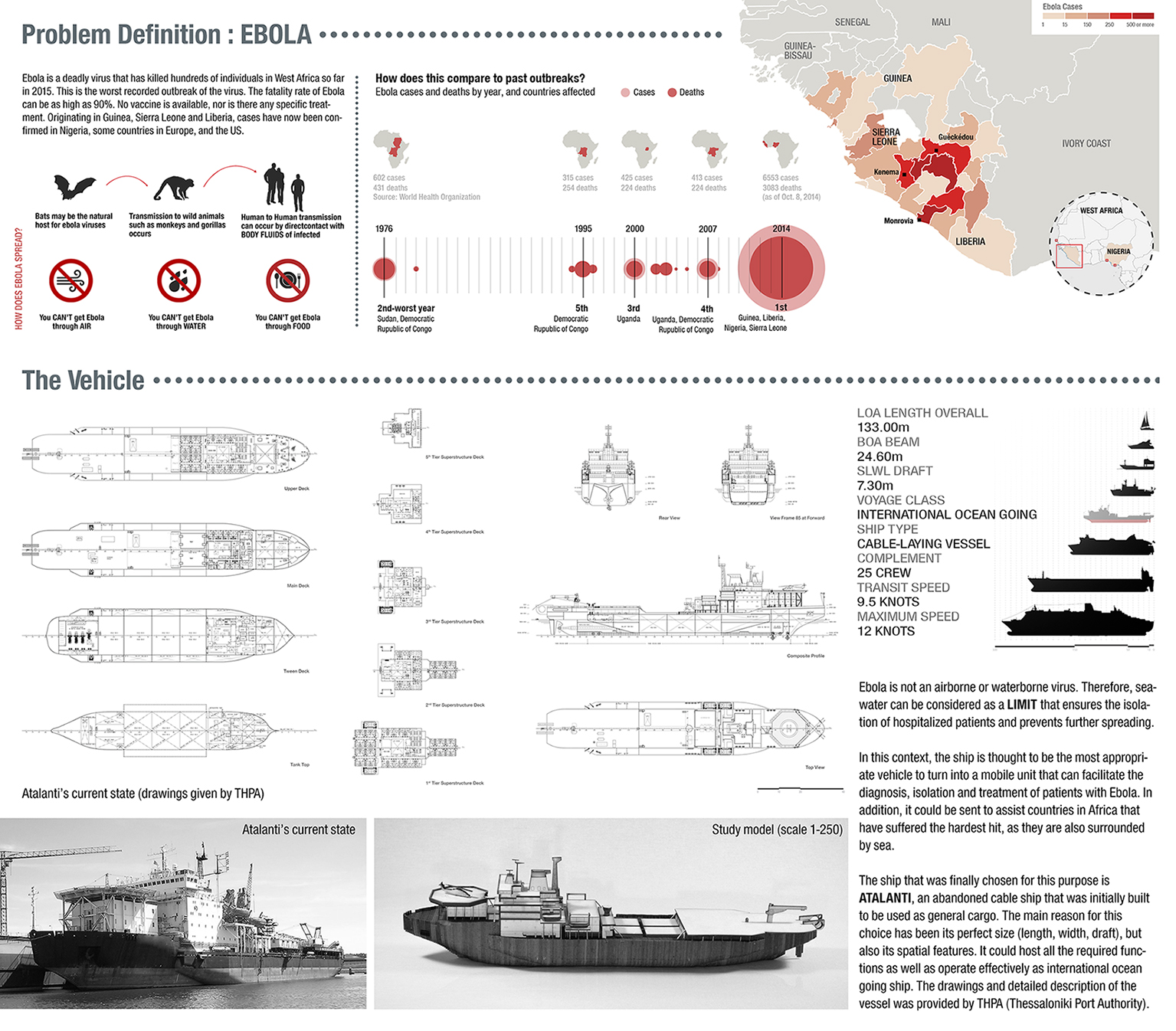 Ebola is not an airborne or waterborne virus. Therefore, seawater can be considered as a limit that ensures the isolation of hospitalized patients and prevents further spreading. In this context, the ship is thought to be the most appropriate vehicle to turn into a mobile unit that can facilitate the diagnosis, isolation, and treatment of patients with Ebola. In addition, it could be sent to assist countries in Africa that have suffered the hardest hit, as they are also surrounded by sea. The ship that was finally chosen for this purpose is ATALANTI, an abandoned cable ship that was initially built to be used as general cargo. The main reason for this choice has been its perfect size (length, width, draft), but also its spatial features. It could host all the required functions as well as operate effectively as international ocean-going ship. The drawings and detailed description of the vessel were provided by THPA (Thessaloniki Port Authority).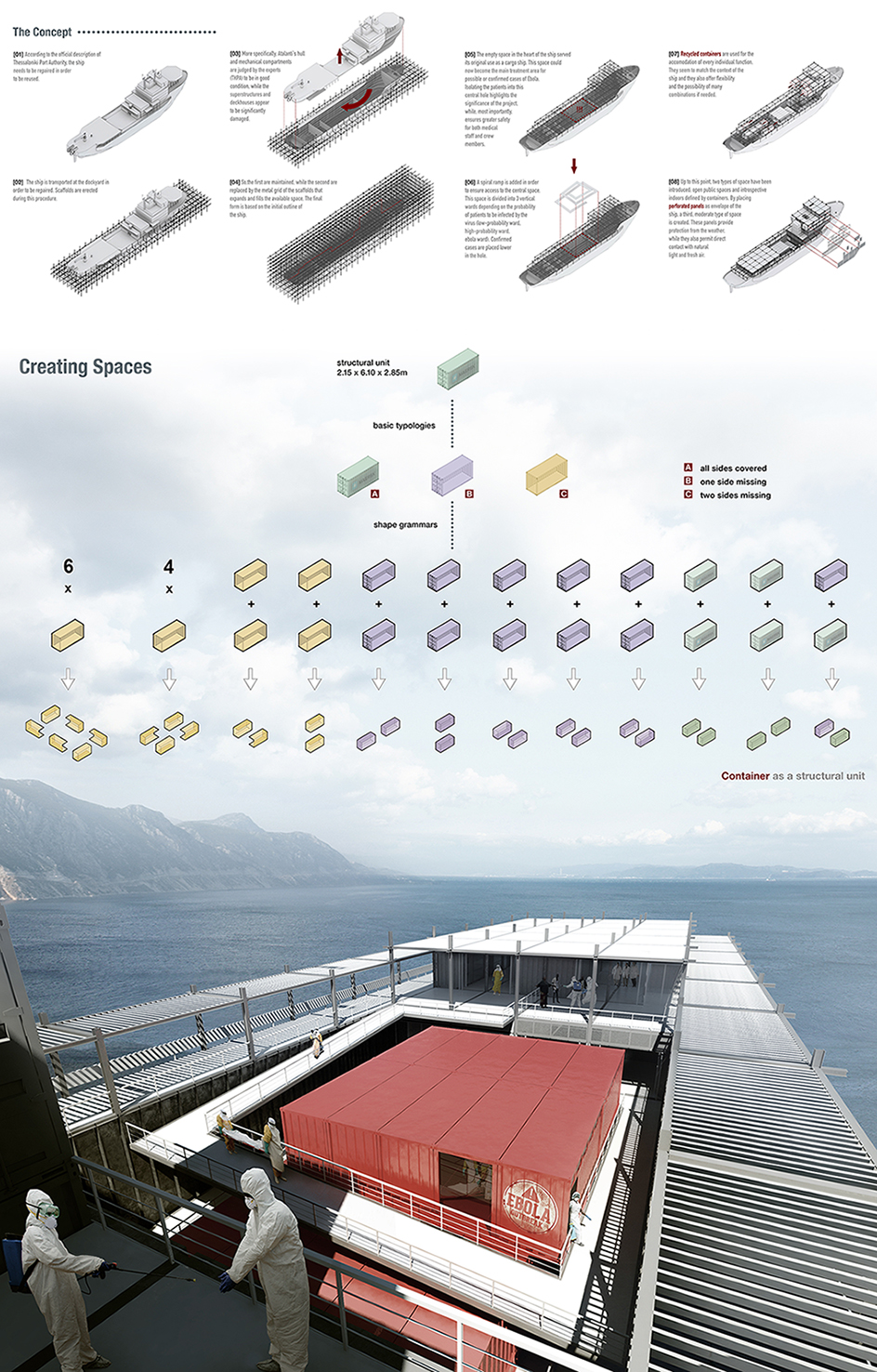 The ship is transported at the dockyard in order to be repaired and scaffolds are erected during this procedure. Atalanti's hull and mechanical compartments are in good condition, while the superstructures and deckhouses are significantly damaged. So, the first are maintained, while the second are replaced by the metal grid of the scaffolds that expand and form the initial outline of the ship. The empty space in the heart of the ship served its original use as a cargo ship. This space could now become the main treatment area for possible or confirmed cases of Ebola. Isolating the patients into this central hole highlights the significance of the project, while, most importantly, ensures greater safety for both medical staff and crew members. A spiral ramp is added in order to ensure access to the central space. This space is divided into 3 vertical wards depending on the probability of patients to be infected by the virus. Confirmed cases are placed lower in the hole. Recycled containers are used for the accommodation of every individual function. They match the context of the ship and they also offer flexibility and the possibility of many combinations if needed. Two types of space have been introduced so far; open public spaces and introspective indoors defined by containers. By placing perforated panels as envelope of the ship, a third type of space is created, providing protection from the weather, while permitting direct contact with natural light and fresh air.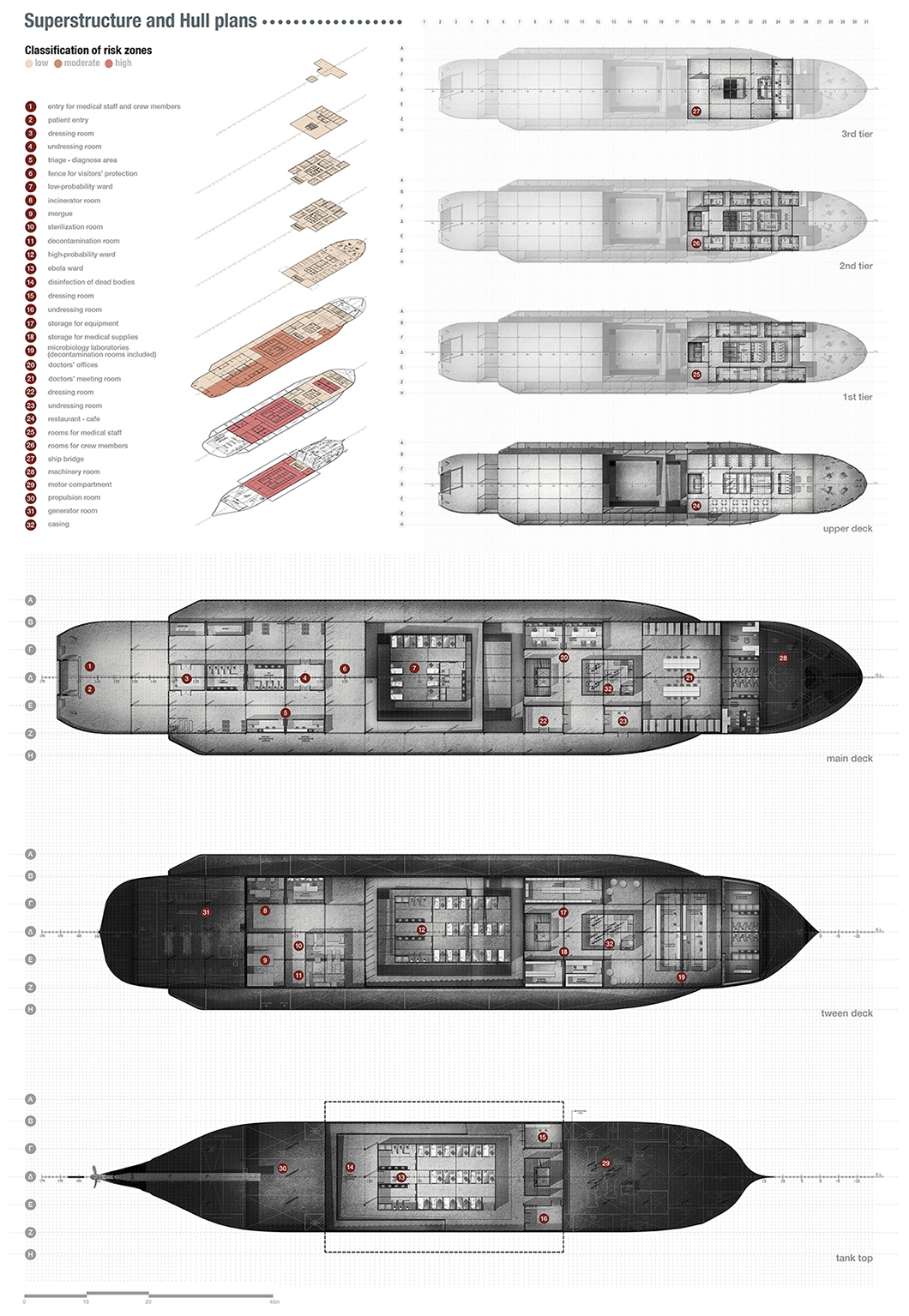 The Board: