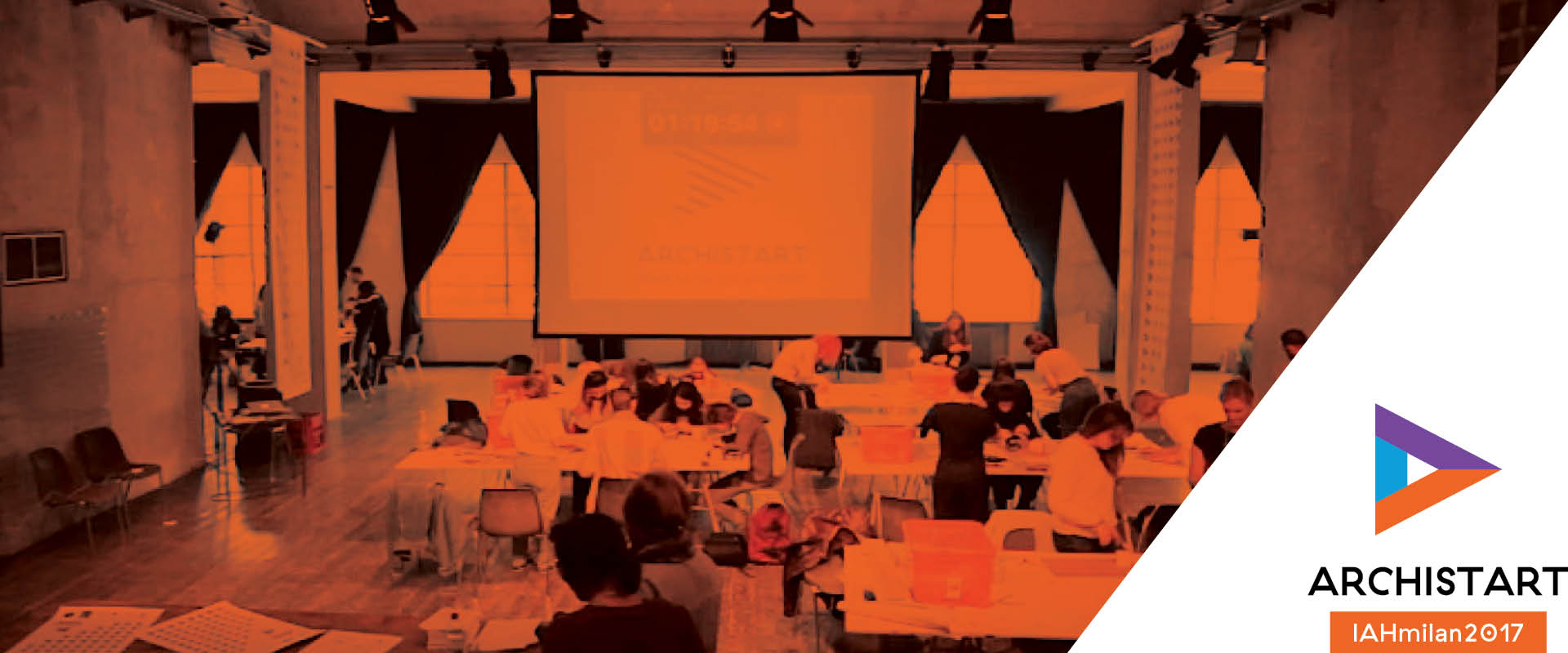 International Architecture Holiday, Milan
IAHmilan17 took place from March 30 to April 4, 2017 at TeatroLaCucina – Milan. Forty young people from all corners of the world lived and worked together for five intense days sharing ideas and gaining some useful designing competences for their future careers.
The Laboratory
The workshop involved 40 young people, split into 8 teams of 5 members, guided by a group of tutors who provided all materials and information necessary for a correct design. The teams produced sketches, diagrams and drawings, and a material model to a 1:20 scale. The designing phases were hosted at TeatroLaCucina, literally "The Kitchen Theatre": this space used to be a canteen and "where meals were prepared, now delicious stories are cooked", as happened during those days when this wonderful theatre hosted IAHmilan17 participants.
Activities
The workshop activities were presented to the participants during the great opening at Cascina Cuccagna, followed by an exquisite Italian aperitivo and a pub-crawling night as ice-breaking in order to start getting to know each other. During the whole workshop the participants, with different backgrounds but similar interests, had the chance to become friends taking part in events and in leisure activities in the amazing city of Milan.
IAHmilan17 also hosted a lecture of Paolo Cascone who presented the African Fabbers School project, the first school of urban ecologies, self-construction and digital fabrication in Africa. The School will be realised in Cameroon by Paolo Cascone with the Urban Fabrication Laboratory in the framework of the project CAM'ON promoted by the COE ngo (Associazione Centro Orientamento Educativo) with the support of AICS – Italian Agency for Development Cooperation. The AFS research and educational programme are based on the idea of bridging the African and the European artisans and designers through community oriented projects, workshops and applied researches. This initiative has the aim of exploring the interaction between African material systems and digital manufacturing technologies for sustainable living.
The theme
The theme of the workshop will be the regeneration of Casa Chiaravalle, site located in the north-east section of Milan, in order to promote the knowledge on the reuse of assets seized from mafia and to raise public awareness of the subject.
The workshop will focus on the design of a series of interventions on the external and internal spaces, that will give new visions and fresh ideas to the renewal process already started on the property with the primary aim of spreading the feeling of Casa Chiaravalle as a public space among the community of the city.
Final exhibition