The idea of regenerate the old and crumbling Milan's railyards was officially born "the day after" Expo, in November 2015, with the signing of an agreement between Comune di Milano (Municipality of Milan), Regione Lombardia (Regional government) and Ferrovie dello Stato (National Rails). The last two years have been characterized by a pre-planning period, for which Comune di Milano invited five international firms (MAD, Stefano Boeri Architetti, Mecanoo, Miralles Tagliabue EMBT and Cino Zucchi Architetti) with the purpose of designing a community-reactivation masterplan aimed at transforming a series of Milan's neglected railyards (S. Cristoforo, Porta Genova, Porta Romana, Rogoredo, Lambrate, Greco Breda and Farini) into "productive social landscapes that establish a harmony between Milan's citizenry, the larger metropolitan region and the natural environment".
///
L'idea di rigenerare i vecchi scali milanesi è nata ufficialmente "il giorno dopo" Expo, nel novembre del 2015, con la firma dell'accordo tra Comune di Milano, Regione Lombardia e Ferrovie dello Stato. Gli ultimi due anni sono stati caratterizzati da un periodo di pre-planning, durante il quale il Comune di Milano ha invitato cinque firme internazionali (MAD, Stefano Boeri Architetti, Mecanoo, Miralles Tagliabue EMBT e Cino Zucchi Architetti) con lo scopo di progettare un masterplan funzionale alla trasformazione di una serie di vecchi scali ferroviari abbandonati (S. Cristoforo, Porta Genova, Porta Romana, Rogoredo, Lambrate, Greco Breda e Farini) in "paesaggi sociali produttivi che possano creare armonia tra la cittadinanza di Milano, la regione metropolitana e l'ambiente naturale".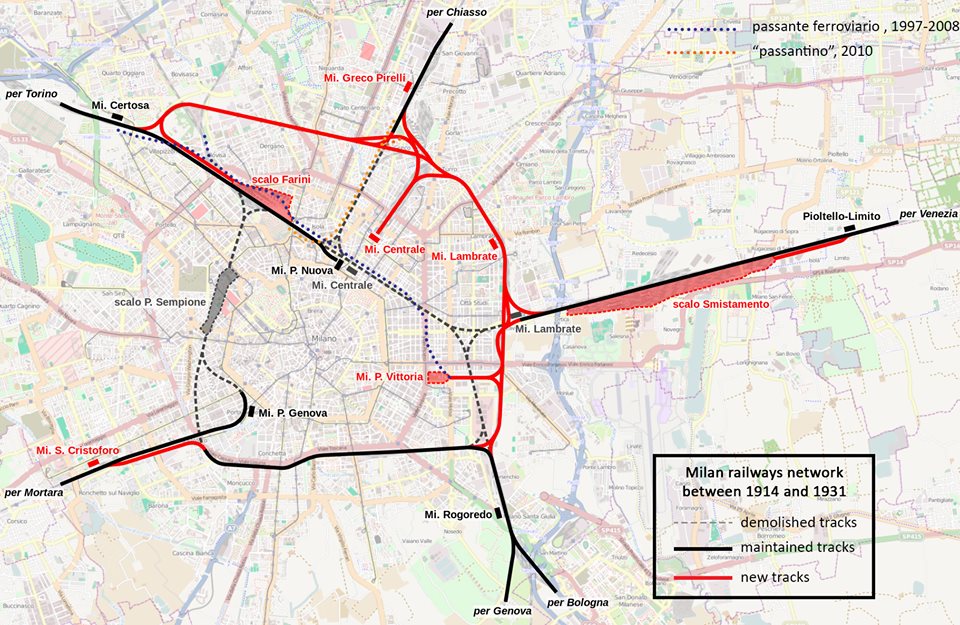 The "peak" of this pre-planning period has been a three-day workshop called Scali Milano: dagli scali, la nuova città (Scali Milano: the new city from the old railyards) which I attended and that took place last December in Scalo Farino (Via Valtellina, Milan), led by FS Sistemi Urbani (National Rails Urban Systems), Comune di Milano and Regione Lombardia with the five international firms as "team leaders", Milan's citizenry, planning officials, academics, engineers and architects invited from different part of the country and of Europe.
///
Il "picco" di questo periodo di pre-planning è stato un workshop di tre giorni chiamato "Scali Milano: dagli scali, la nuova città", al quale ho partecipato personalmente e che ha avuto luogo lo scorso Dicembre a Scalo Farino (Via Valtellina, Milano), guidato da FS Sistemi Urbani, Comune di Milano e Regione Lombardia con le cinque firme internazionali invitati come "team leaders", i cittadini di Milano, tecnici comunali, personaggi del mondo accademico, ingegneri ed architetti provenienti da diverse del paese e dell'Europa.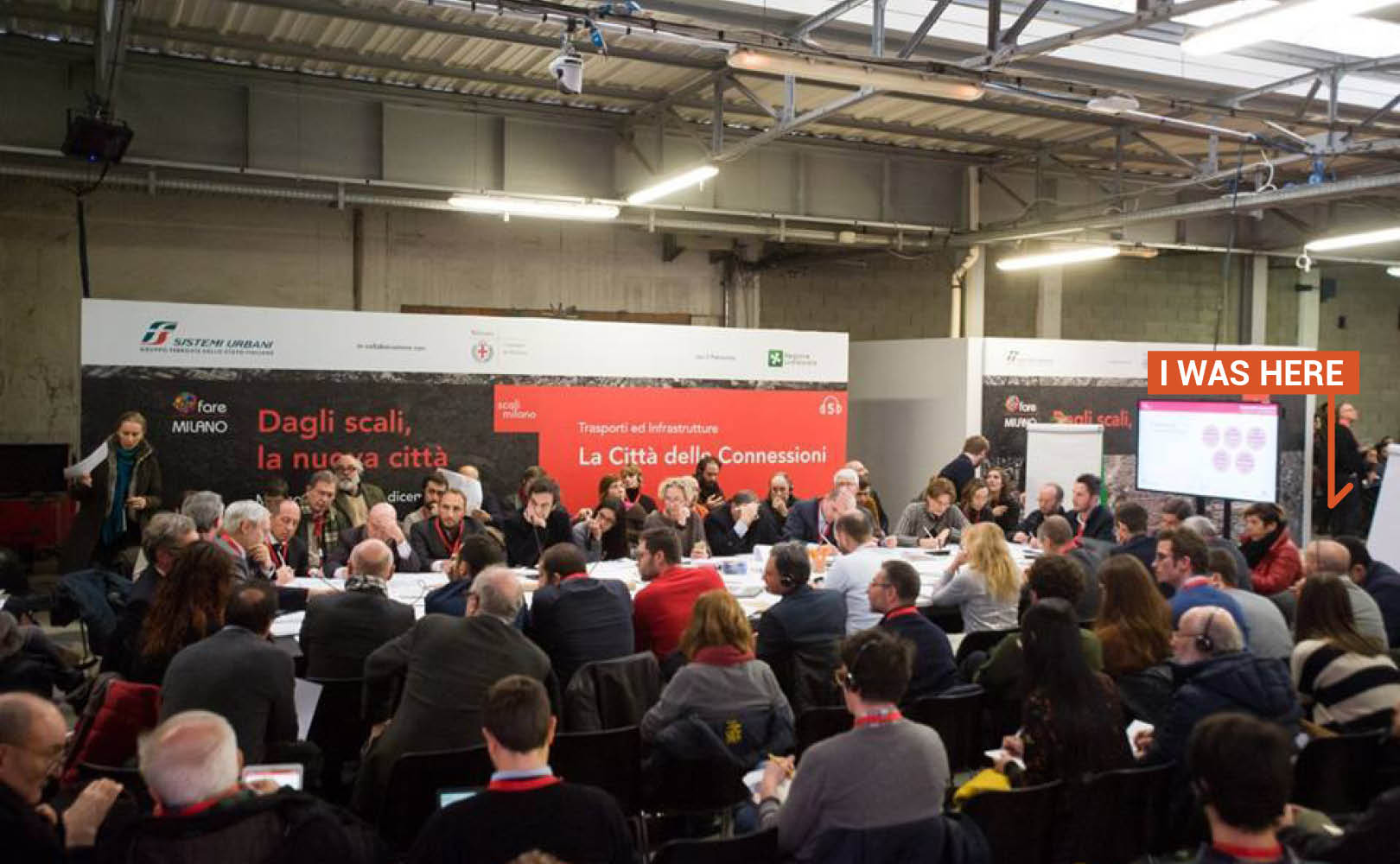 The main topics of Scali Milano workshop were the railyards, which have been in different states of disuse since the last century. The repurposing of these areas represents an important part of the regional and metropolitan area urban discourse that the city of Milan can uniquely address. The scheme proposed reorganizing the railyards into a series of interconnected micro-systems that follow five spatial concepts: "City of Connections", "City of Green", "City of Living", "City of Culture" and "City of Resources", ensuing the purpose that main core of this regeneration have to be the integration of the fabric of the old city into part of a holistic plan that can address and celebrate population growth, inside a modern metropolitan city that continues to densify through the introduction of three element: additional mass transit infrastructures, affordable housing typologies and sustainable mixed-use development.
///
I temi principali del laboratorio di Scali Milano sono stati, naturalmente, i diversi scali ferroviari in stato di abbandono dal secolo scorso. La riqualificazione di queste aree rappresenta una parte importante di un discorso a scala urbana, metropolitana e regionale che la città di Milano ha la possibilità di affrontare in maniera uniforme e globale. Il progetto ha proposto di riorganizzare gli scali in una serie di micro-sistemi interconnessi che seguono cinque concetti spaziali: "Città delle Connessioni", "Città del Verde", "Città del Vivere", "Città delle Culture" e "Città delle Risorse", perseguendo un unico filo conduttore riconducibile al fatto che il nucleo principale di questa rigenerazione dev'essere l'integrazione del tessuto della città vecchia in un piano olistico che possa affrontare e celebrare la crescita della popolazione, all'interno di una moderna città metropolitana che continua a densificarsi attraverso l'introduzione di tre elementi : nuove infrastrutture di trasporto di massa, tipologie di housing a prezzi accessibili ed uno sviluppo sostenibile del territorio che segua il principio del "mixed-use".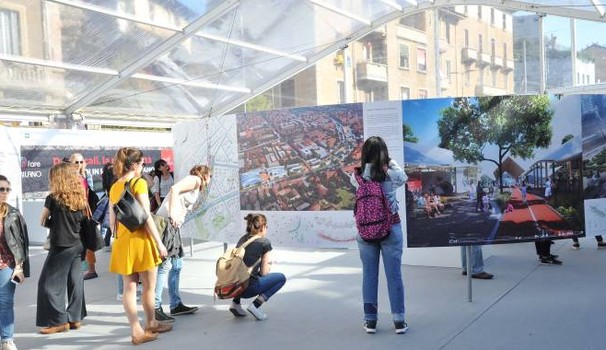 The five different scenarios produced have been revealed and exposed during the Milano Design Week 2017: several meetings about them took place from 3rd to 9th of April in a temporary structure called "Fondo Corsa" located along the terminal part of the disused tracks in Porta Genova FS station, just next to the brand-new pedestrian path Biki.
Stay tuned for the following articles, in which we will discuss the different scenarios proposed by the five team leaders!
///
I cinque diversi scenari prodotti sono stati rivelati ed esposti durante la Milano Design Week 2017, in diversi incontri che si sono svolti dal 3 al 9 aprile in una struttura temporanea chiamata "Fondo Corsa" situata lungo la parte terminale del sedime ferroviario inutilizzato di Porta Genova FS, proprio accanto al nuovo percorso pedonale Biki.
Continua a seguirci per leggere gli articoli nei quali discuteremo i diversi scenari proposti dai cinque team leaders!