Il progetto Refà è frutto della partecipazione al bando pubblico per la presentazione di progetti di valorizzazione del patrimonio culturale dei Piccoli comuni del Lazio a supporto di progetti che sappiano coniugare il recupero fisico di beni, manufatti, siti, spazi di valore storico e culturale ad effetti durevoli, dinamiche economiche e partecipazione sociale.
REFÀ is a urban regeneration festival promoted by Archistart and the city of Carpineto Romano.
A cultural intiative that aims to enhance the area and to trigger urban regeneration projects.
The event involved young architects and designers that experienced a moment of networking and bonding with the area. The aim of the workshop was to activate a social and cultural project that involves actively the citizens of all ages and to give birth to an experimental system based on an alternative model of fruition of the city.
Refà è il festival di rigenerazione urbana pensata da Archistart e supportata dalla città di Carpineto Romano.
Un'iniziativa culturale che punta a valorizzare l'area e a scaturire processi di rigenerazione urbana.
L'evento ha coinvolto giovani architetti e designers che hanno costruito un forte legame con il luogo. Lo scopo del workshop è stato quello di promuovere un progetto sociale e culturale capace di coinvolgere attivamente i cittadini di tutte le età e dare vita ad un sistema sperimentale basato su un modello di fruizione della città alternativo.
Partecipatory Workshop
Before the workshop, the team of Archistart carried out a partecipatory workshop with the citizens of Carpineto. Specifically, we asked them to identify an area in the city to give new value to. The results where pretty interesting and the citizens seemed to be very focused on the topic.
Workshop partecipativo
Prima del workshop, il team di Archistart a portato avanti un workshop partecipativo con i cittadini di Carpineto. In particolare, abbiamo chiesto di indicare un'area che secondo loro avrebbe bisogno di essere riqualificata. I risultati acquisiti sono stati molto interessati e i cittadini sono sembrati molto concentrati sul tema.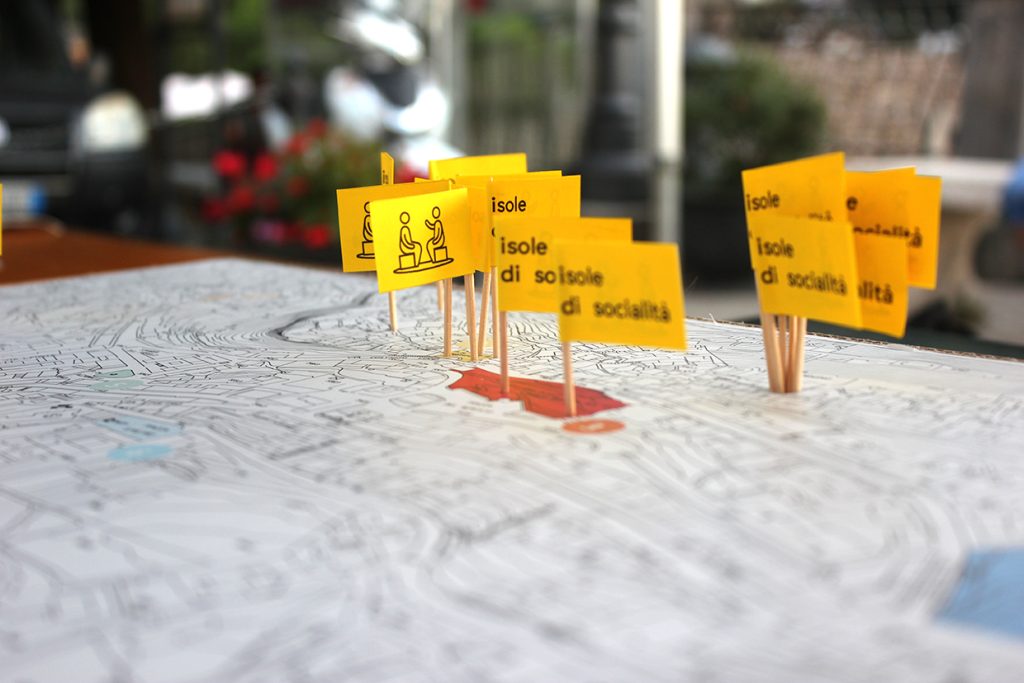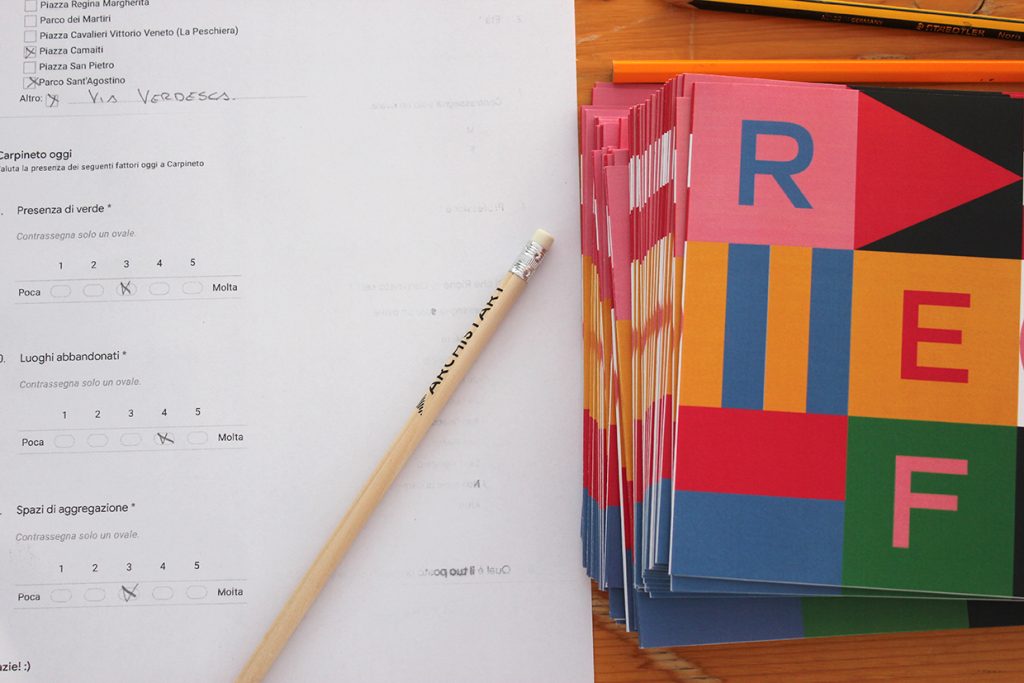 Self-construction Workshop
For a week, the participants produced a series of pop-up tables to be used during the social dinner organized for the closing event. The tables where designed to be easy to set up and able to be connected one to another. The tables will remain available to the municipality of Carpineto as public assets for collective use.
Workshop di autocostruzione
Per una settimana, i partecipanti hanno prodotto una serie di tavoli pop-up che possono essere usati durante la cena sociale organizzata in occasione dell'evento conclusivo. I tavoli sono stati pensati per essere facili da montare e per essere uniti ad altri tavoli. I tavoli sono stati ceduti al Comune di Carpineto, come bene pubblico a servizio della comunità.
Visual identity Workshop
Carpineto is divided in 7 historical districts, each one with its own identity, symbols and colours. Every year, the districts challenge during the Pallio della Carriera, a strong moment of  collectivity for the city of Caripineto. A party with music, parades and flag-throwers. The participants, with the help  and support of the flag throwers of Carpineto Romano, designed the new flags of Carpineto Romano, reinterpreting the old symbols and creating a new identity for the districts of Carpineto. Eventually, the participants painted the new graphics by hand on the flags, together with the local artist Orlando Gonnella, who offered us his experience, knowledge and techniques.
Workshop di identità visiva
Carpineto è divisa in sette rioni storici, ognuno con la sua propria identità, simboli e colori. Ogni anno, i rioni si sfidano durante il Pallio della Carriera, un forte momento di collettività per la città di Carpineto. Una festa con musica, cortei e sbandieratori. I partecipanti, con l'aiuto e supporto degli sbandieratori e musici di Carpineto Romano, hanno progettato le nuove bandiere di Carpineto Romano, reinterpretando i nuovi simboli e creando la nuova identità per i rioni di Carpineto. Infine, i partecipanti hanno dipinto le nuove grafiche sul tessuto, guidati dal maestro Orlando Gonnella, che ha offerto i suoi insegnamenti tecnici e la sua esperienza.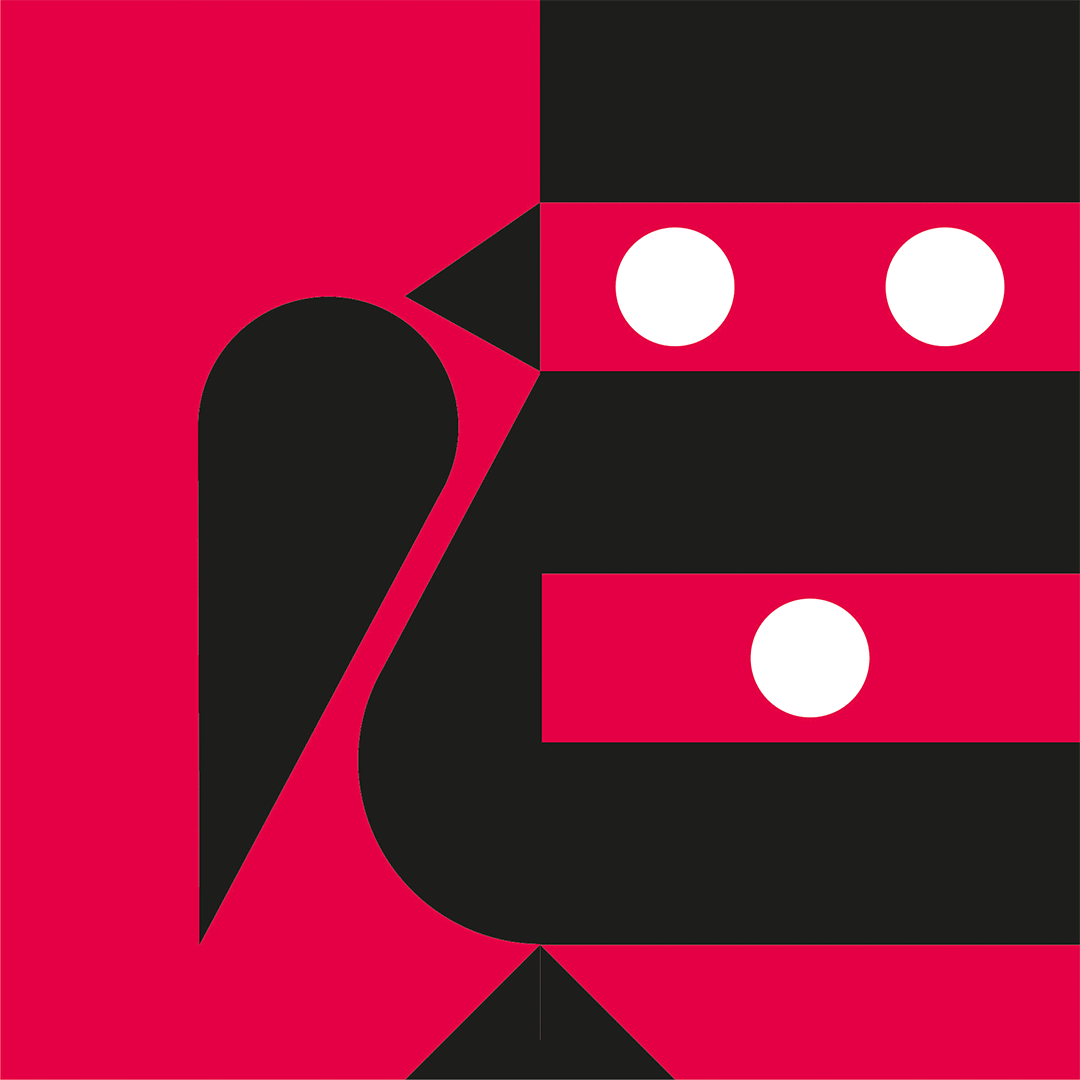 Closing event | Evento di chiusura
The presentation of the outputs was a very special moment, that involved various associations and professionals of the city and many many people took part to the event.
La presentazione degli outputs ha rappresentato un momento molto speciale, che ha coinvolto varie associazioni e professionisti del posto, oltre alle centinaia di persone che hanno assistito all'evento.
Theatrical Play
Vernacular play about Carpineto, performed by the association Attori in Corso.
Rappresentazione teatrale
Rappresentazione teatrale vernacolare di Carpineto, messa in atto dall'associazione teatrale Attori in Corso.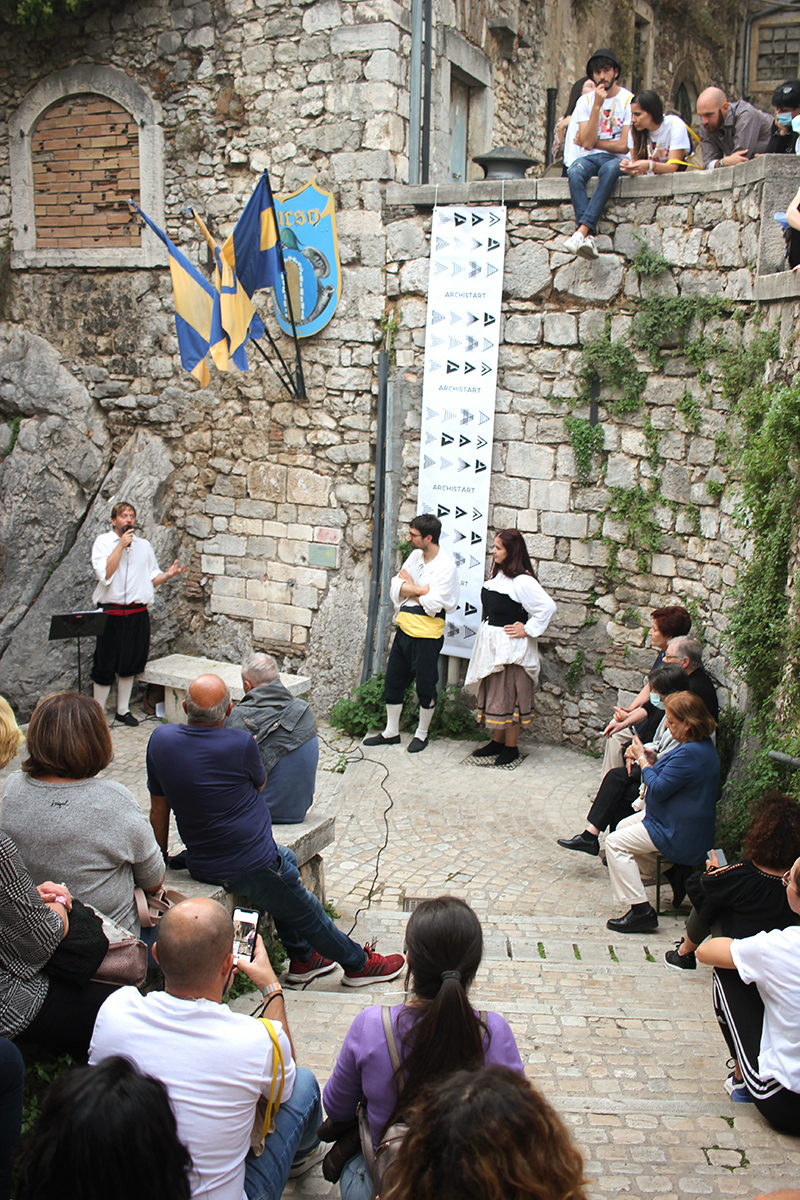 Flag throwers performance 
Images from the spectacular performance of the Flag Throwers of Carpineto Romano with the flags produced during the workshop.
La performance degli Sbandieratori
Immagini dalla spettacolare esibizione degli Sbandieratori e Musici di Carpineto Romano, che hanno usato le bandiere prodotte durante il workshop.
Social dinner 
The social dinner in the streets of Carpineto, organized with the association Amici Miei, involved the use of the tables produced during the workshop. The band Estremamente animated the evening with songs and music.
Cena di comunità
La cena sociale in una via di Carpineto, organizzata con l'Associazione Amici Miei, ha previsto l'uso dei tavoli prodotti durante il workshop. La band Estremamente ha animato la serata con musica e canti.
Trekking!
The day after, we said goodbye to Carpineto taking a long walk with Trekking Monti Lepini con Luca.
Trekking!
Il giorno dopo, abbiamo salutato Carpineto con una lunga camminata con Trekking Monti Lepini con Luca.