The thesis work is supported by the zone competent Cultural Heritage's Superintendency. Its objectives are the documentary analysis and the study of specific design solutions that use operational tools aimed at re-establishing the ideal conditions for the building's conservation.
It experiments various latest generation methodologies and adopts advanced instrumental equipment to defining a specialized and multidisciplinary method, in step with technological innovation in the cultural heritage sector. It designs sophisticated and daring interventions based on the diagnostic feedback and the seismic vulnerability analysis to configure a minimal restoration aimed at preserving the authenticity of the architectural work.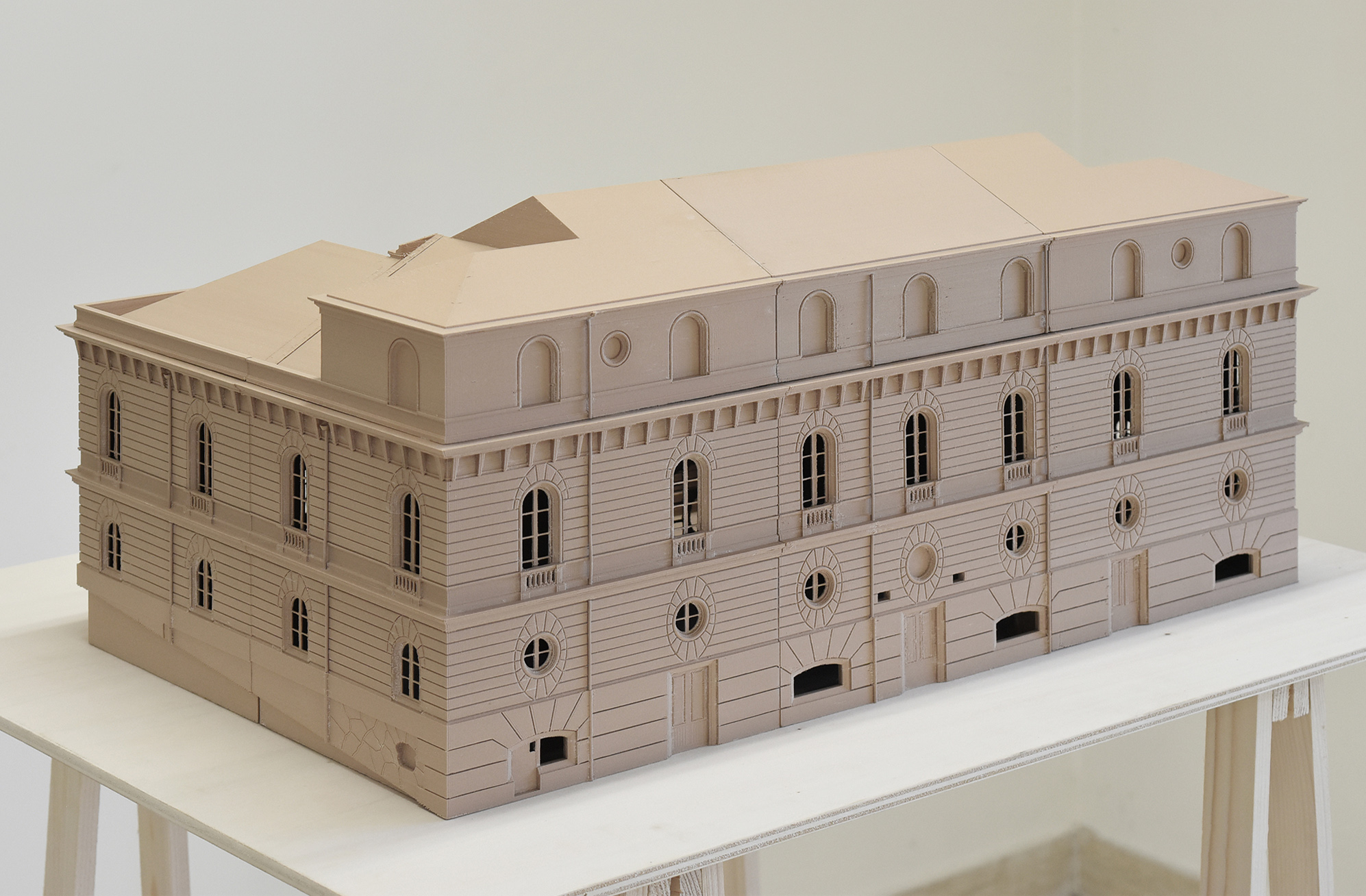 Work program: - direct survey aimed at the metric restitution of plans, elevations, sections; - historical and archival document research; - architectural photogrammetry with reflex camera aimed at detecting ceilings; - photogrammetry by APR drone aimed at the metric and material restitution of the facades; - thermohygrometric tests with two professional thermohygrometers; - BIM aimed to the 3D acquisition of the building and of the roof carpentry; - classification and diagnostic sheets of the roof carpentry; - laboratory tests aimed at the mortar's characterizing.
Il lavoro di tesi è coadiuvato dalla Soprintendenza competente sul territorio. Ha come obiettivi l'analisi documentativa e lo studio di specifiche soluzioni progettuali che impiegano degli strumenti operativi indirizzati a ristabilire le condizioni ideali per la conservazione del palazzo. Sperimenta diverse metodologie di ultima generazione e adotta avanzate dotazioni strumentali volte a definire una metodica specialistica e multidisciplinare al passo con l'innovazione tecnologica nel settore dei beni culturali. Progetta sofisticati e audaci interventi sulla base del riscontro diagnostico e dell'analisi di vulnerabilità sismica per configurare un restauro minimale finalizzato a preservare l'autenticità dell'opera architettonica. Sinossi del programma di lavoro: - rilievo diretto finalizzato alla restituzione metrica di piante, prospetti, sezioni; - ricerca documentale storica e archivistica; - fotogrammetria architettonica con fotocamera reflex finalizzata al rilevamento dei soffitti; - fotogrammetria da APR drone finalizzata alla restituzione metrica e materica delle facciate; - prove termoigrometriche con due termoigrometri professionali; - BIM finalizzato all'acquisizione 3D dell'edificio e della carpenteria del tetto; - schede di classificazione e diagnostiche della carpenteria del tetto; - prove di laboratorio finalizzate alla caratterizzazione della malta.
The Board: